News Article
Data suggest teens who use JUUL are not just experimenting
More than half of U.S. teens who use the popular, new e-cigarette JUUL are using it multiple times a month, underscoring concerns about nicotine addiction.
Truth Initiative® surveyed 15- to 17-year-olds who used JUUL in the past 30 days and found that 56 percent reported using the vaping device three or more days and just under half of that group said they used it on at least 10 days. The research, published in Tobacco Control and based on a national sample of more than 13,000 young people between ages 15 and 34, indicates that teens are not just experimenting with the device, but using it regularly.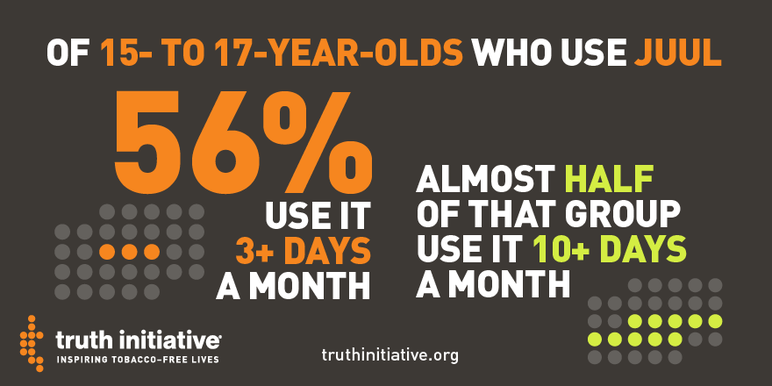 JUUL, which has taken over almost three-quarters of the e-cigarette market in just a few years, has caused widespread concern because of its popularity with youth. Food and Drug Administration Commissioner Scott Gottlieb recently declared that youth use of e-cigarettes has reached "nothing short of an epidemic proportion of growth" and cited new, unpublished FDA data that anticipate a 77 percent increase in e-cigarette use among high school students.
The sleek devices look like USB flash drives, enabling young users to disguise them from parents and teachers, have higher nicotine content than other e-cigarettes and are available in sweet and fruity flavors, which have been proven to attract young people. The maker of JUUL also claims the product delivers nicotine up to 2.7 times faster than other e-cigarettes.
While e-cigarettes are less toxic than combustible cigarettes, they still contain toxins and the addictive chemical nicotine, which is harmful to adolescent brain development. Younger e-cigarette users are more likely to become addicted to nicotine, have more difficulty quitting and are at higher risk for addiction to other substances in the future. Young adults who use e-cigarettes are more than four times as likely to begin smoking tobacco cigarettes within 18 months compared to their peers who do not vape.
Many youth e-cigarette users incorrectly believe they aren't consuming nicotine when they vape. Results from a Truth Initiative study published in April 2018 found that 63 percent of JUUL users did not know that the product always contains nicotine, even though all types of JUUL pods sold on the market, including mint, mango, creme and cucumber flavors, have nicotine in them. Additionally, an annual national survey of more than 40,000 students from the University of Michigan 2016 Monitoring the Future study found that the majority of youth e-cigarette users think they vaped only flavoring, not nicotine, the last time they used a product.
For more information on JUUL, read "6 important facts about JUUL."
More in emerging tobacco products