Report
Local restrictions on flavored tobacco and e-cigarette products
Download Local flavored tobacco policies report
Sales restrictions on all flavored tobacco products, including all types of menthol products, are gaining momentum at the local and state level. As of June 30, 2023, 395 jurisdictions and 3 Native American tribes have placed some type of restriction on the sale of flavored tobacco products, and of those, 124 have fully comprehensive policies that prohibit sales of all types of flavors across all products, including menthol/mint/wintergreen tobacco products that are sometimes exempted from flavor policies, at all retailers.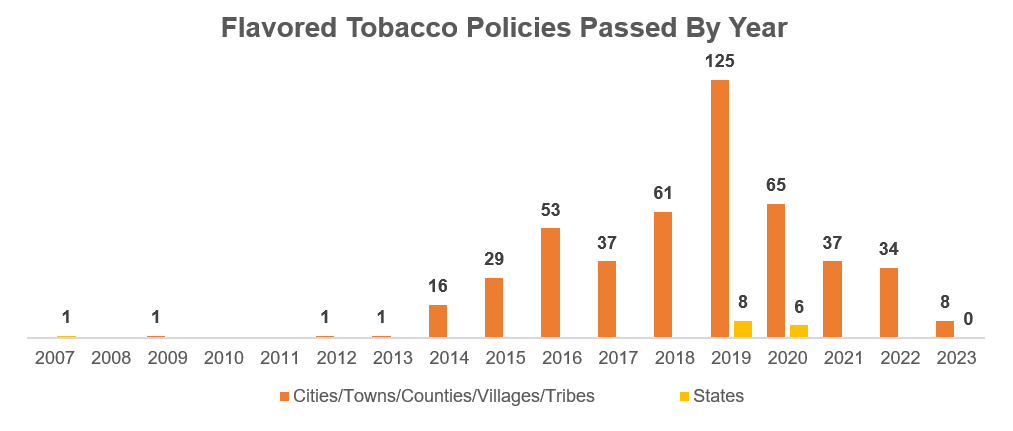 Flavors, including menthol, are a key factor in drawing youth and young adults to tobacco products. More than 80% of youth who have used a tobacco product report that they began with a flavored product. The federal government has done nothing to restrict the sale of menthol cigarettes — which are easier to smoke and more likely to addict youth — or the sale of other tobacco products that come in fruit, cocktail and candy flavors, such as smokeless tobacco, cigars or hookah.
Flavors are also playing a big role in the youth e-cigarette public health crisis — 97% of youth who vape use flavored products — and while the US Food and Drug Administration did issue a policy in January 2020, we believe the policy is deficient and leaves many loopholes. Menthol in all e-cigarette forms and flavors in open-system and disposable products can still remain on the market. Thus, we do not include it here. As a result, implementing strong, local flavor policies that restrict the sale of all flavored tobacco products, including menthol, is an increasingly important tool in ensuring effective tobacco control efforts and protection of the most vulnerable populations.
This resource presents a quarterly breakdown on the current state of U.S. jurisdictions with policies on flavored tobacco products.
Download Local flavored tobacco policies report
More in emerging tobacco products