Research Article
Bigger, stronger, and cheaper: Disposable e-cigarettes have more nicotine and are more accessible than ever
Disposable e-cigarettes sold in the U.S. nearly tripled in nicotine strength, quintupled in e-liquid capacity, and dropped in price by nearly 70% between 2017 and 2022, according to a recent Truth Initiative® study published in Tobacco Control. The study of e-cigarette sales data finds that 2022 alone saw the debut of 48 disposable e-cigarettes with 6% or greater nicotine strength as well as 18 products with a 20-milliliter capacity – 29X the size of a JUUL pod.
The increasing size and strength of disposable e-cigarettes have resulted in a generation of products with nicotine levels comparable to several cartons of cigarettes, while price drops have nearly tripled the purchasing power for price sensitive youth. The market's evolution indicates a need to limit e-cigarette sizes, establish minimum prices, and cap nicotine levels to prevent young people from becoming hooked to cheap, highly addictive nicotine products.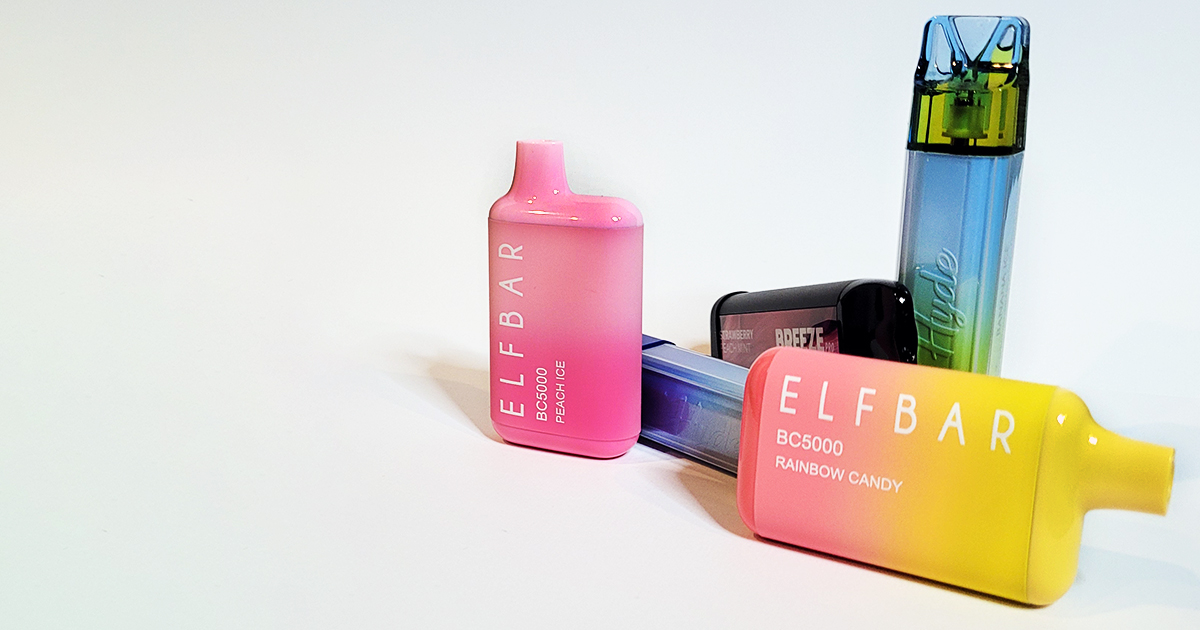 Without comprehensive e-cigarette market regulation, competition has driven rapid development of bigger, stronger, and cheaper disposable e-cigarettes. In 2020, the U.S. Food and Drug Administration enacted a restriction that eliminated flavors for pod-based e-cigarettes, exempting menthol flavors and disposable e-cigarettes. Within a year following this policy change, disposable e-cigarette use among high school students increased 1,000%. Although disposable e-cigarettes were the most-used device type among young people in 2022, the FDA has only issued a marketing order on one disposable product, the tobacco-flavored NJOY Daily.
As e-cigarette size increases, prices plummet
Researchers reviewed U.S. sales estimates from NielsenIQ* retail scanner data from January 2017 to September 2022 to examine changes in disposable e-cigarette price, volume capacity, and nicotine strength. Data included universal product code (UPC) level sales dollars and units from convenience stores; food, drug, and mass merchandisers; discount and dollar stores; and military commissaries.
Eighteen new products with 20 milliliter capacities were introduced to the market in 2022, putting these products at 29X the size of a JUUL pod. Simultaneously, the average price per milliliter of e-liquid has decreased 69%, nearly tripling the purchasing power for price sensitive youth. According to Truth Initiative researchers, "cheap, high-capacity disposable e-cigarettes may be an appealing entry point for non-tobacco users, experimenters, and light users," similar to how small cigarette packs appeal to price-sensitive and occasional smokers.
To discourage experimentation and reduce youth access, researchers recommend that the size of e-cigarettes should be limited and a minimum price should be established. Volume-based packaging standards effectively reduced combustible tobacco product sales and a recent Truth Initiative study reports increasing e-cigarette prices reduces youth use.
Putting a stop to the upwards trending nicotine strength
Researchers also found in 2022 alone, 48 disposable e-cigarettes with 6% or greater nicotine strength entered the market without authorization at the time the research was conducted. Disposable e-cigarettes, which come in wide variety of flavors, have seen the greatest increase in nicotine strength, according to another study published in Nicotine & Tobacco Research. Between 2017 and 2022, average nicotine concentration increased from below 2% to 5% in what has been dubbed the "nicotine strength arms race." This trend of increasing nicotine strengths places youth at greater risk of addiction, lower motivation to quit, and amplified symptoms of anxiety and depression.
The U.S. currently has no limit on nicotine concentration. Establishing a nicotine cap has been pursued by many countries and localities, but companies are able to modify devices to maximize e-liquid aerosolized in each puff. Device modifications, such as increasing the heat to allow the device to burn more e-liquid, "expose users to more toxicant emissions, increasing the danger to users without decreasing the addictive potential," according to the authors. Truth Initiative continues to support the reduction of nicotine in all tobacco products, but policy makers should also consider regulating e-cigarette performance specifications to prevent manufacturers from skirting a nicotine cap.
Strong federal action on the e-cigarette market is needed
On July 27, 2023, the FDA sent three distributors warning letters for the sale of illegal e-cigarette products, including the popular Elf Bars, Esco Bars, and Puff Bars. However, data on the proliferation of high-nicotine, large, and cheap e-cigarettes in this study indicate that letters and injunctions may be too little too late. Although warning letters may slow market growth, companies are flagrantly violating the regulatory process, launching new products without FDA authorization, and flooding the e-cigarette market with "beginner friendly" devices that contain highly addictive levels of nicotine. According to the study authors, "As the e-cigarette market continues to evolve in ways that remain highly appealing to young people, policy makers must act to regulate these products to reduce youth vaping and nicotine addiction."
*The conclusions drawn from the NielsenIQ data are those of the researchers and do not reflect the views of NielsenIQ. NielsenIQ is not responsible for, had no role in, and was not involved in analyzing and preparing the results reported.
More in emerging tobacco products