Research Article
Young e-cigarette users report widespread use of flavor blends and "concept" flavors like Iced Mango, Blue Dream, and OMG
E-cigarettes that blend strong fruit, sweet, and cooling tastes are widely popular among young e-cigarette users, according to Truth Initiative research that is the first to compare flavor profiles of blends that combine more than one taste or sensation (like Banana Ice or Cool Cucumber) and concept flavors, or those with vague names that do not directly identify a flavor (like Blue Dream, OMG, and Marigold).
The research, published in Nicotine & Tobacco Research, shows that in a survey of current e-cigarette users, three-quarters (74.8%) reported using blended flavors, and over half (57.9%) used concept flavors in the past month. Blended flavors with fruit or cooling flavor descriptions were the most popular, including Iced Mango (30.2%), Banana Ice (26.4%), Lush Ice (23.8%), and Melon Ice (22.9%). Use of multiple concept flavors was also common, with more than one-third (38.2%) reporting use of three or more concept flavors within the past 30 days.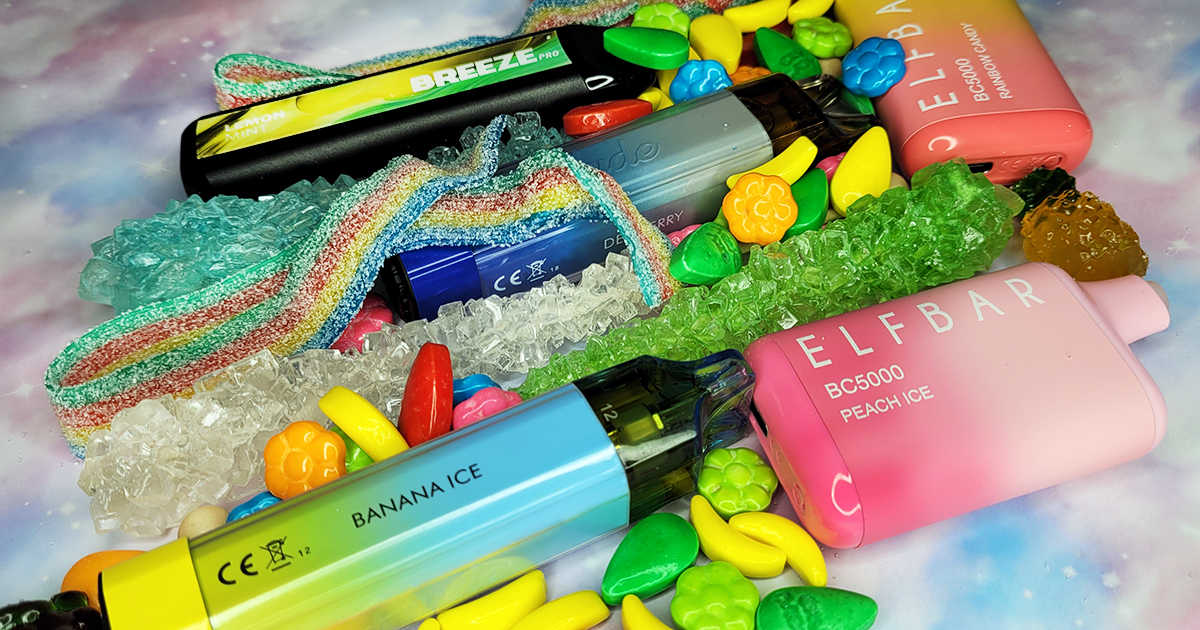 The extensive use of flavors that blend strong fruit, sweet, and cooling characteristics – found in both blended flavors that may have names describing these characteristics and concept flavors that do not – is an important finding given that national surveys that measure use of e-cigarette flavors are often limited to single categories such as fruit, sweet, and menthol. The study highlights the need to establish consistent classification of flavored e-cigarettes to track the proliferation of new products and flavors and to help policymakers identify and regulate all e-cigarette flavors that appeal to young people.
The popularity and taste of flavor blends and concept flavors
What is the most popular vape flavor
Flavored e-cigarettes remain widely popular because restrictions enacted by the Food and Drug Administration in 2020 to eliminate flavors (excluding menthol) only applied to cartridge-based e-cigarettes like JUUL, leaving many flavored products, including increasingly popular disposable e-cigarettes, on the market. More than half (56.8%) of youth and young adult e-cigarette users surveyed used disposable e-cigarettes most often in the past month while less than a quarter (22.7%) used cartridge-based, or "pod ­­­­mod," systems covered by FDA flavor restrictions.
To identify which flavor blends or concept flavors are used by youth and young adult e-cigarette users and classify how fruity, cooling, sweet, or minty the products tasted, researchers surveyed 2,281 current e-cigarette users between ages 15-24 about any flavor blends and concept flavors they were currently using. Survey respondents rated the strength of fruity, cooling, sweet, or minty taste of their current flavors.
Most concept flavors had less intense taste than the flavor blends with descriptors, however, some did not significantly differ from flavor blends in the strength of their fruity, cooling, sweet, or minty taste, including Tropic, Bahama Mama, Marigold, Island Breeze, Winter, Honeymoon, Island Cream, Meteor Milk, OMG, and Royal Dagger. Arctic had a significantly stronger cooling sensation than flavor blends with cooling descriptors.
The presence of cooling e-cigarette flavors poses a serious concern given that the cooling attributes of menthol have been shown to play a role in tobacco use initiation among young people.Research has found that both fruit and cooling flavors can suppress nicotine's harsh and irritable effects, counterbalancing a barrier that may otherwise prevent youth and young adults from using higher nicotine e-cigarettes.By combining appealing flavors such as fruit and sweets with cooling properties, products are likely to facilitate experimentation and established use of e-cigarettes.
Part of the tobacco industry playbook
Are flavored vapes banned
The use of blended and concept flavors aligns with historic tactics of modifying product characteristics, labeling, or packaging to maintain sales and subvert flavor restrictions designed to deter youth use. Concept flavors, in particular, pose a challenge for enforcement of flavored tobacco restrictions, as they make it difficult for enforcement agencies to determine whether a tobacco product meets the legal definition of a flavored tobacco product.
In 2021 the popular disposable e-cigarette brand BIDI® Stick unveiled nearly a dozen new concept flavor names as direct translations from its previous flavors, a move researchers say appears designed to subvert future restrictions on the sale of flavored disposable e-cigarettes. More recently, as California's law eliminating flavored tobacco, including menthol cigarettes, went into effect in late December, R.J. Reynolds rolled out two new cigarette brands, Camel Crisp and Newport EXP, marketing them as "non-menthol" even though they still have synthetic cooling agents. 
Researchers recommend that restrictions on flavored e-cigarettes be expanded to include all device types "to address the continued proliferation of flavors with youth appeal," and that policies to eliminate menthol should be expanded to include other cooling additives.
More in emerging tobacco products