News Article
How much nicotine is in JUUL?
One JUUL pod contains 20 cigarettes worth of nicotine.
The amount of nicotine in one standard JUUL cartridge is roughly equal to the amount of nicotine in a pack of cigarettes, or about 200 puffs, according to the JUUL website.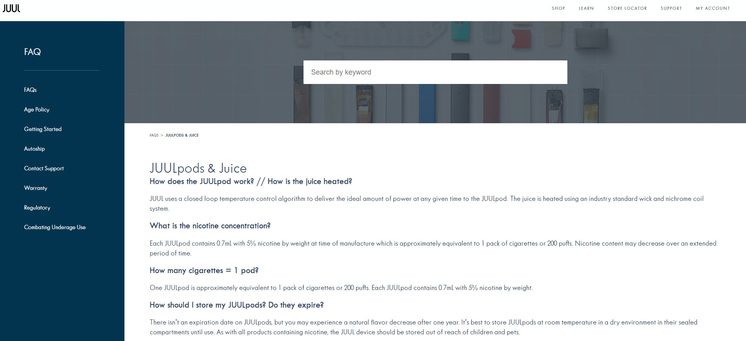 Early nicotine use can harm brain development, alter nerve cell functioning and increase the risk of young people smoking cigarettes. In fact, young people who use e-cigarettes are four times more likely to go on to smoke cigarettes than their peers who do not vape. (Interested in quitting? Learn how to quit JUUL.)
JUUL contains more nicotine than many other e-cigarettes.
Before JUUL was introduced in 2015, the most popular e-cigarette products contained nicotine strengths of between roughly 1 percent and 2.4 percent. When JUUL debuted, its pods contained 5 percent of nicotine strength.
The maker of JUUL claims its nicotine salt formulation increases the rate and amount of nicotine delivered into the blood, compared with other formulations. The company has claimed the product delivers nicotine up to 2.7 times faster than other e-cigarettes.
Many people are misinformed about the nicotine in JUUL and other e-cigarettes.
Many young people aren't even aware that they're consuming nicotine when they use e-cigarettes. Results from a April 2018 Truth Initiative® study published in Tobacco Control show that nearly two-thirds — 63 percent — of JUUL users between 15 and 24 years old did not know that the product always contains nicotine. The study provides further evidence that young people are unaware of the nicotine they are consuming. The majority of youth e-cigarette users think they vaped only flavoring, not nicotine, the last time they used a product.
The popularity of this high-potency nicotine delivery device raises concerns about the lack of education and regulation of e-cigarette products. In November 2018, the Food and Drug Administration proposed a plan to address the youth e-cigarette epidemic, which includes limiting the sale of most flavored e-cigarettes to adult-only stores and online. However, the plan does not address the agency's decision to allow e-cigarettes to stay on the market through August 2022 without its review. This move, made in 2017, allowed electronic tobacco products, including JUUL, to stay on the market unchecked.
Truth Initiative is continuing to push for more action to prevent e-cigarettes from putting a new generation at risk for addiction and turning back the clock on decades of progress in the fight against tobacco. These actions include eliminating flavors, banning online sales, restricting marketing appealing to youth and requiring a thorough premarket review of e-cigarettes.
For information on quitting e-cigarettes, visit truthinitiative.org/quitecigarettes.
More in emerging tobacco products