Fact Sheet
E-cigarettes: Facts, stats and regulations
Download the E-Cigarette Fact Sheet
E-cigarettes or electronic nicotine delivery systems (ENDS) go by many names – the most common name is "e-cigarette," but other terms include e-cigs, vapes, vape pens, mods and tanks. For the purposes of this resource we refer to the entire category as "e-cigarettes."
E-cigarette use among young people has skyrocketed in recent years and remains at epidemic levels: about one in five high school students used e-cigarettes in 2020, many of whom were not smokers in the first place.
| | |
| --- | --- |
| | (updated 6/21) |
| | (updated 6/21) |
| | (updated 6/21) |
| | (updated 3/21) |
| | (updated 3/21) |
| | (updated 6/21) |
| | (updated 6/21) |
| | (updated 6/21) |
| | (updated 6/21) |
| | (updated 6/21) |
| | (updated 6/21) |
WHAT IS AN E-CIGARETTE?
E-cigarettes are devices that operate by heating a liquid solution to a high enough temperature so that it produces an aerosol that is inhaled.
Solutions, sometimes called e-liquids, almost always include nicotine, flavoring and a humectant, such as propylene glycol, to retain moisture and create the aerosol when heated.
While many of the flavorings and humectants used in e-liquids have been approved by the Food and Drug Administration for oral consumption, they have not been approved for inhalation. Thus, their health consequences are not well known when consumed in this manner [See "Health Effects" section].

There is growing evidence that using e-cigarettes can harm lung health and puts users at greater risk of contracting COVID-19. A recent study found that e-cigarette users are five times more likely to test positive for COVID-19 than those who do not use tobacco products, and that dual users of cigarettes and e-cigarettes are nearly seven times more likely to test positive for the disease.
In August 2019, cases of e-cigarette or vaping use-associated lung injury (EVALI) sharply increased, afflicting e-cigarette users with respiratory and other symptoms, peaking in September 2019. As of February 18, 2020, a total of 2,807 hospitalized EVALI cases had been reported to the CDC in the U.S. with 68 cases resulting in deaths.
Data from a February 2020 study linked EVALI cases to vitamin E acetate, an additive in THC-containing vaping products. Vitamin E acetate was present in bronchoalveolar-lavage (BAL) fluid in 48 out of 51 EVALI patients from 16 states, but it was not found in BAL fluid from the comparison group of 99 healthy individuals. Because 82% of the cases with specific substance use information available involved individuals who reported using THC-containing products, the FDA has recommended that consumers avoid purchasing vaping products of any kind on the street, using THC oil, or modifying store-bought products.
While cases of EVALI have decreased since the initial outbreak, the California Department of Public Health reported eight cases of EVALI in April 2020, the first cases reported to them since February 2020. The CDC states, "it is possible that more than one compound or ingredient could be a cause of lung injury, and evidence is not yet sufficient to rule out contribution of other toxicants." It continues to advise non-smokers to avoid vaping of any variety and especially products purchased "off the street."

Older generations of e-cigarettes used a form of nicotine called free-base nicotine. The most recent generation of e-cigarettes on the market, which include pre-filled pod systems like JUUL, refillable systems like Suorin Drop and Kandypens, and disposable systems like Puff Bar, use nicotine salts in the e-liquids.

The nicotine salt formulas allow for much higher levels and efficient delivery of nicotine with less irritation compared to earlier generations of e-cigarettes — prompting questions about the use, purpose and safety of this novel form of nicotine.
Higher nicotine e-cigarettes have driven the surge in e-cigarette sales in recent years, with those containing at least 4% nicotine comprising nearly three-quarters of the e-cigarette market in 2018. Unlike in Europe, where e-cigarette nicotine concentrations cannot exceed 2%, there are no nicotine concentration restrictions in the United States.
THE EVOLUTION OF E-CIGARETTES
E-cigarettes first entered the market in 2007 and have evolved many times since then, with older versions designed to resemble regular cigarettes, cigars, pipes, pens, and even USB flash drives.
The latest generation of products feature a sleek, high-tech design and are disposable or use easily rechargeable batteries.
The most popular, JUUL, is a pre-filled pod system containing nicotine salts that emerged in 2015 and quickly established itself as a leading e-cigarette product. JUUL remains the most popular reusable e-cigarette device, with 51.6% of the reusable market share in April 2021. JUUL's share of the whole e-cigarette market is 49.7%.
"Copycat" products, such as Suorin Drop, myblu, and Vuse Alto, followed JUUL's blueprint of high-tech design and high nicotine delivery through nicotine salt e-liquid formulations. These devices are all often referred to as "JUUL" due to the ubiquity of the brand, but they are also referred to as "pod mods" because the e-liquid is sold in self- contained disposable pods.
JUUL also inspired copycat devices that are specifically compatible with JUUL, including Eonsmoke and Vapor4Life, that deliver similarly high amounts of nicotine in sleek, discreet devices or in devices that either use JUUL pods or have pods that can be used in JUUL devices.
While pre-filled pods or cartridges like JUUL remain the most popular device type, use of disposable e-cigarettes like Puff Bar, which heats up a cartridge containing e-liquid but is disposable and does not use pre-filled pods, are rapidly increasing in popularity.

Use of disposable e-cigarettes increased about 1,000% (from 2.4% to 26.5%) among high school e-cigarette users and more than 400% (from 3% to 15.2%) among middle school e-cigarette users during 2019-2020. E-cigarette sales data reflect these trends as well: sales of disposable products nearly doubled from 10.3% to 19.8% while prefilled cartridge product sales fell from 89.4% to 80.2% from August 2019 to May 2020.
Puff Bar was the most popular disposable device, with 51.3% of the disposable market share in April 2021, followed by BIDI Stick with 24%.
Disposable e-cigarette products like Puff Bar can still be sold in flavors, an exemption that may be driving disposable e-cigarettes' increasing popularity.18 Because Puff Bar is a device built for single use, it is exempt from the FDA's enforcement guidance on flavored e-cigarette products. Puff Bar's website advertises up to 15 different flavors, including "Strawberry," "Blueberry Ice," and "Cool Mint" (see "Marketing" section).
Recently, Puff Bar claims it started using synthetic nicotine in its products, causing uncertainty about its regulatory status.
HOW MUCH NICOTINE IS IN AN E-CIGARETTE?
Nicotine levels in e-cigarettes are highly variable, with some reaching or exceeding levels found in combustible cigarettes.
Labeling is not always a reliable indicator of nicotine content, as studies have found mislabeling to be a common issue in the category.
The way an e-cigarette is used or modified also affects the delivery of nicotine to an individual user.
Some e-cigarette products deliver nicotine as efficiently as a cigarette. The use of nicotine salts also lowers the pH of e-liquids, which allows higher concentrations of nicotine to be delivered with less irritation. For example, the maker of JUUL claims the product has a nicotine content like traditional cigarettes, and that it delivers the nicotine up to 2.7 times faster than other e-cigarettes.
In the U.S., JUUL devices were originally introduced with a 5% nicotine salt pod. Following suit, JUUL competitors began offering nicotine salt concentrations as high as 7% in what has been called a "nicotine arms race." However, in 2018, JUUL introduced a lower nicotine pod, with 3% nicotine strength. Popular disposable devices such as Puff Bars use nicotine salts and are sold with nicotine strengths as high as 5%.
In addition to the rate of nicotine delivery, the nicotine content of products like JUUL also raises concerns about the potential for addiction. A 2018 Truth Initiative study published in Tobacco Control found that among current youth and young adult JUUL users, the majority — 63% — did not know that the product always contains nicotine. Anecdotally, youth are reporting signs of severe dependence, such as inability to concentrate in class, using an e-cigarette upon waking, and using e-cigarettes at night after waking with a craving.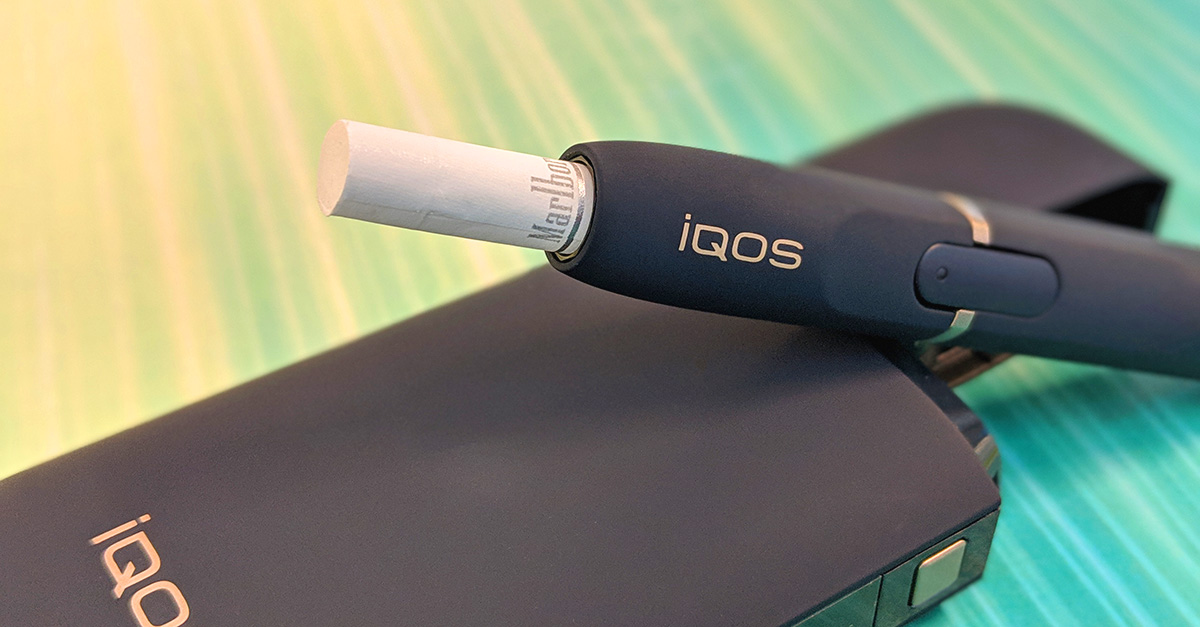 Heated tobacco products
In addition to e-cigarette products, tobacco companies have introduced new products that work by heating tobacco instead of burning it. In 2019, IQOS — produced by Philip Morris International — became the first tobacco heating system authorized by the FDA to be marketed and sold in the U.S. Although manufacturers claim that heating tobacco is less harmful than traditional cigarettes, current data on health effects of these devices are sparse and most of what has been published has been by tobacco industry scientists.
For more information, read Truth Initiative's report on IQOS in the U.S.
ARE E-CIGARETTES LESS HARMFUL THAN CIGARETTES?
It is generally accepted that e-cigarettes produce fewer of the toxins found in cigarette smoke. However, it is becoming increasingly apparent that this frame is not adequate to tell the entire story regarding individual health impacts. The most recent evidence suggests that e-cigarettes may pose their own unique health harms and that comparison to cigarettes may not be the only relevant question for determining their impact on individual health. Indeed, the growing evidence of potential health risks related to e-cigarette use has led some researchers to question whether e-cigarettes are safer than combustible cigarettes. For more information see "Health Effects".
The recent outbreak of vaping related lung injuries also supports caution with respect to e-cigarettes. While a substantial number of cases in the recent outbreak of vaping related lung illness (see "Health Effects") appear to be related to THC vaping and the CDC recently identified vitamin E acetate as a chemical of significant concern, the agency has been cautious to say it has not found a single cause and continues to recommend caution with respect to all vaping as the investigation continues. At minimum, this outbreak dramatically demonstrates the dangers of an unregulated market in inhaled substances with no premarket review for consumer safety.
We also note the frequently cited claim from Public Health England that e-cigarettes are definitively — 95% — safer than traditional cigarettes. First, this analysis was originally conducted in 2013, prior to recent research on health effects of vaping. Moreover, further analysis into the original research finds that the evidence for such a statistic remains unclear and not fully comprehensive, among other concerns about author and funding conflicts of interest. The Public Health England claim also fails to acknowledge the reality of the potential for negative net public health impact among a population of users that have otherwise never used tobacco products or the lack of clinical and long-term evidence of these products' safety in humans, regardless of current smoking status.
While a 2018 National Academies of Sciences, Engineering, and Medicine report found substantial evidence that exposure to toxic substances from e-cigarettes is significantly lower compared to combustible cigarettes, recent studies are showing that is not the end of the story on health impact. It now appears that e-cigarettes may present their own unique health risks, including to the respiratory and cardiovascular systems. Given the products' relatively recent introduction to the marketplace, further research is needed to evaluate the short and long term health impacts of e-cigarettes.
The evidence for e-cigarettes' effectiveness as a cessation tool also remains inconclusive and, until an FDA review, the safest, most evidence-based cessation strategy should include a combination of counseling, nicotine replacement therapy, and/ or cessation drugs like varenicline, approved by the FDA. Moreover, while the basic technology behind e-cigarettes is consistent, there is enormous variability within the product category and there is no typical e-cigarette. The products include different ingredients, different hardware and deliver highly variable amounts of nicotine and potentially toxic chemicals, including heavy metals such as cadmium, lead, nickel, tin and copper. This variation makes it difficult to issue overall public health recommendations about the category and demonstrates the huge and long-standing need for pre-market review of these products.
Consumers need to consistently know what they are getting and whether it is safe — particularly from a product designed to deliver chemicals by frequent inhalation. The growing evidence of potential health risks and lung injuries related to e-cigarette use has led researchers to question whether e-cigarettes are safer than combustible cigarettes.
PATTERNS OF USE
E-cigarette use has increased in recent years, especially among youth and young adults, who use e-cigarettes more than any other age group. In 2018, the rapid rise of tobacco products led the U.S. surgeon general to issue an advisory about the youth e-cigarette "epidemic." In 2019, youth e-cigarette use increased to even higher levels. While the most recent studies show a decrease in youth use in 2020, the rate is still alarmingly high with nearly one in five high school students reporting current e-cigarette use.
YOUTH
The last five years have seen enormous spikes in youth e-cigarette use rates.
In 2017, 11.7% of high school students had used an e-cigarette in the past 30 days. By 2018, that number had risen to 21% and, by 2019, 27.5% of high school students had used e-cigarettes in the past month. That number dropped to 19.6% in 2020.
The current use rate among middle schoolers rose from 0.6% in 2011 to 10.5% in 2019. The rate dropped to 4.7% in 2020.
The National Institute on Drug Abuse's Monitoring the Future Study (MTF), instead of measuring high school and middle school prevalence, measures prevalence in 8th, 10th, and 12th graders.

In 2020 MTF found that 18% of 8th, 10th, and 12th graders reported vaping nicotine in the past 30 days, flat from 18.1% in 2019.
The percent of 8th, 10th, and 12th graders using JUUL dropped from 15.8% in 2019 to 10.4% in 2020. Since roughly doubling from 2017 to 2019, (from 7.5% to 16.5% for 8th graders, 15.8% to 30.7% for 10th graders, and 18.8% to 35.3% for 12th graders), the percentage of teenagers who said they vaped in the past 12 months remained constant in 2020 at 16.6% of 8th graders, 30.7% of 10th graders, and 34.5% of 12th graders.

In 2019, reported e-cigarette use among adults over the age of 18 was highest among adults aged 18-24 years old (9.3%). Over half (56%) of these e-cigarette users reported they had never smoked cigarettes.
E-cigarettes were the second most commonly used tobacco product, with 4.5% (10.9 million) of U.S. adults reporting use of the product in 2019.
Using e-cigarettes increases the likelihood of smoking cigarettes among young people, raising concerns that e-cigarettes act as entry nicotine products that may lead to use of more dangerous nicotine products. According to a 2020 study, young people in the U.S. who had ever used e-cigarettes in 2018 had 7X higher odds of ever using cigarettes and 8X higher odds of currently using cigarettes one year later, compared with those who had never used an e-cigarette. Another study estimated that e-cigarettes are likely responsible for 22% of new ever cigarette use (trying a cigarette) and 15.3% of current cigarette use for the same group — totaling nearly 200,000 new cigarette initiators.
In 2019, 36.9% of current adult e-cigarette users were current cigarette smokers.
Many young people aren't aware that e-cigarette products like JUUL contain nicotine. In fact, a 2018 Truth Initiative study showed that nearly two-thirds of JUUL users aged 15-21 were not aware the product always contains nicotine. A recent study found that 99% of all e-cigarette products, (categorized as disposable devices, rechargeable devices, and refillable products like prefilled cartridges and e-liquid bottles), sold at convenience stores, supermarkets and similar outlets contain nicotine.
As rates of use increase, frequency of use (how many times a user vapes in a day) is also rising, indicating that users are not simply experimenting with e-cigarettes but are instead using them habitually. The 2020 National Youth Tobacco Survey data show that 38.9% of current high school e-cigarette users use e-cigarettes on 20 days or more per month, up from 34.2% in 2019.
Flavored products
In 2020, 82.9% of youth e-cigarette users used flavored e-cigarettes, including 84.7% of high school users (2.53 million) and 73.9% of middle school users (400,000).
Among high school students who currently used any type of flavored e-cigarettes, the most commonly used flavor types were fruit (73.1%); mint (55.8%); menthol (37.0%); and candy, desserts, or other sweets (36.4%). Among middle school students who currently used any type of flavored e-cigarettes, the most commonly used flavor types were fruit (75.6%); candy, desserts, or other sweets (47.2%); mint (46.5%); and menthol (23.5%).
Youth e-cigarette users cite flavors as a top reason they began using e-cigarettes, second only to use by a family member or friend.

A study that included middle and high school students reported that 43% of young people who ever used e-cigarettes tried them because of appealing flavors.
The FDA has also reported that, among current youth users of e-cigarettes, 97% used a flavored e-cigarette in the past month.
While the most commonly used e-cigarette device type among youth was pre-filled pods, such as JUUL, disposable e-cigarettes saw huge increases. In fact, disposable e-cigarette use among current high school e-cigarette users increased by approximately 1000% during 2019-2020.

JUUL continues to hold a majority of the U.S. e-cigarette sales market share, but the rise of disposable e-cigarettes and other brands are starting to erode that lead.

The market share of disposable e-cigarettes nearly doubled in just 10 months from August 2019 to May 2020. Disposable e-cigarettes likely rose in market share after the FDA restricted flavors in non-disposable e-cigarettes, making disposable e-cigarettes with youth appealing flavors such as candy and fruit the only flavored products still available for purchase.

Research suggests that menthol, which remains available for sale, has continued to increase in popularity.

By March 2020, menthol-flavored e-cigarette sales had risen to an all-time high of 57.7% market share.
2020 NYTS data show that 37% of high school e-cigarette users use menthol flavored e-cigarettes. In fact, following the FDA's guidance around the removal of non-menthol-flavored cartridge-based e-cigarettes in January 2020, menthol e-cigarette sales increased by $59.5M and its market share shot up from 24% to 49% during the roughly eight-week period following the announcement. The market share of mint e-cigarettes decreased from 26% to 4% and sales declined by $79.5M during this time, indicating that as other flavors were either voluntarily pulled or removed as a result of policy changes, users simply switched to menthol.
For more information, see "Flavors"
YOUNG ADULTS
Like youth, young adults aged 18-24 are also using e-cigarettes at increasing rates. Young adult use of e-cigarettes every day or some days increased from 2.4% in 2012 and 2013 to 5.2% in 2017, and increased again to 7.6% in 2018 based on a recent analysis.
A 2016 report from the Behavioral Risk Factor Surveillance System survey found that 44.3% of young adult current e-cigarette users were never smokers before trying e-cigarettes.
Compared with adults aged 25 and older, young adults are more likely to try e-cigarettes and report having used e-cigarettes in the past 30 days.
A study in Mississippi suggests that using JUUL leads to more sustained use than other e-cigarettes. It concluded that the continued use of JUUL by Mississippi undergraduate students was more likely than the continued used of other e-cigarettes after an initial trial. The study found that 30-day use was three times higher among those who had tried JUUL than a different e-cigarette.
The growth in the popularity of e-cigarettes among young adults has caused concerns that use will lead to the initiation of cigarettes and other tobacco products.
ADULTS
E-cigarette use has remained relatively low and stable among adult users since around 2012. Between 2012 and 2013, 2.4% of adults aged 25-44 and 2% of adults aged 45-64 used e-cigarettes. By 2016, the rates had increased to 4.2% and 2.8%, respectively. The most recent data for the year 2018 show current use of e-cigarettes remaining at 4.2% among adults 25-44 and 2.1% among adults aged 45-64.
The overall adult rate of e-cigarette use in 2018 was 3.2%, down from 3.7% in 2014.
Those aged 45 and older are significantly less likely to have ever tried an e-cigarette compared to young adults.
DUAL USE OF TOBACCO PRODUCTS
Among all age groups, e-cigarettes are most commonly used by those who also use other tobacco products, such as combustible cigarettes. This pattern is commonly referred to as "dual use" or "poly tobacco use."
Among adult users, this is a troubling pattern because it suggests that some e-cigarette use may be supplementing smoking instead of replacing it. Because there is no safe level of smoking, there are concerns that this behavior suppresses efforts to completely quit smoking (i.e., people choosing to "cut down" instead of quitting smoking entirely). Some individuals using e-cigarettes to quit may experience a period of dual use as they transition between products, complicating the issue.
Among youth, the data tell a different narrative. A 2018 report from the NASEM concluded that there is "substantial evidence that e-cigarette use increases risk of ever using combustible tobacco cigarettes among youth and young adults," suggesting that e-cigarette use itself is a risk factor, not just a correlation with smoking. More recent studies have suggested that young e-cigarette users are four times more likely to begin smoking cigarettes compared to their peers who do not use e-cigarettes.
DUAL USE PREVALENCE
Among adults in 2016, 54.6% of current e-cigarette users also smoked cigarettes.
Among adults who used more than one tobacco product in 2017, the most common combination was cigarettes and e-cigarettes.
Dual use of e-cigarettes and cigarettes is highly common among youth and young adults.
A nationally representative survey in 2016 found that among youth and young adult e-cigarette users aged 13-25, more than half (55.9%) used another tobacco product in addition to e-cigarettes.
Among young adults aged 18-35, e-cigarette use was associated with more frequent cigarette smoking and more intensive cigarette use.
Young adults (18-35) who used e-cigarettes the previous year increased their odds of daily cigarette use by 1.67 and increased their odds of being diagnosed with tobacco use disorder by 2.58.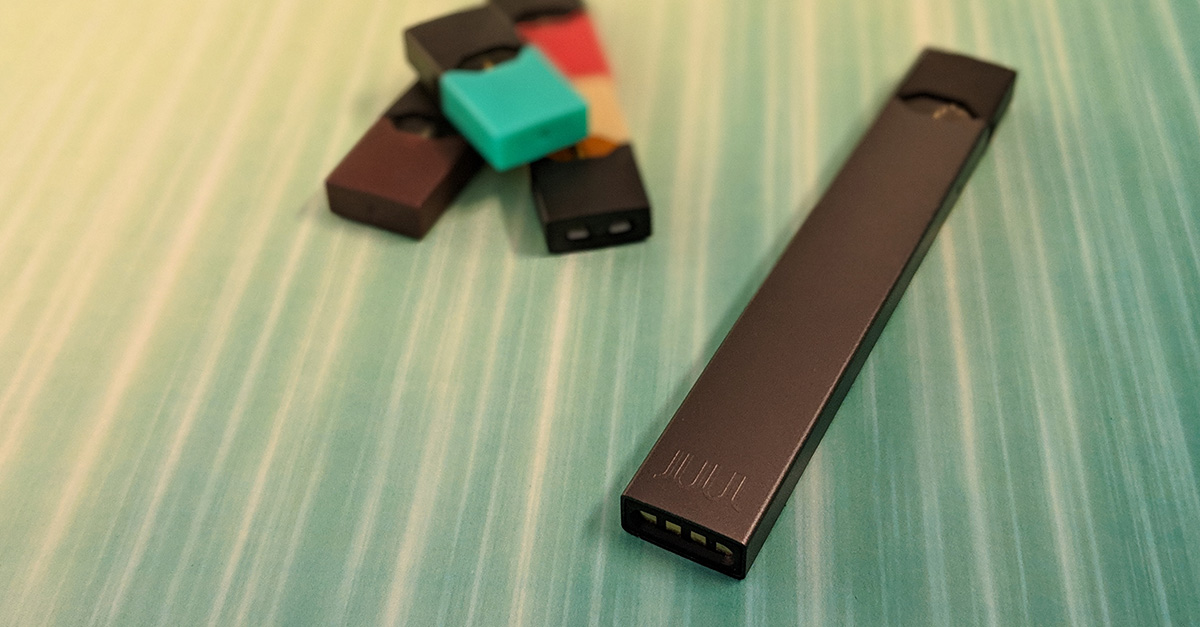 JUUL
Since 2016, the e-cigarette brand JUUL has surged in popularity among young people and, as of October 2019, holds 64.4% of the e-cigarette market share measured by Nielsen. The traditional tobacco industry took notice of JUUL's rapid ascent. In 2018, Altria, the makers of Marlboro cigarettes, acquired a 35% stake in the company for $12.8 billion. In September 2019, an Altria executive replaced the former head of JUUL as CEO.
A 2017 study by Truth Initiative found 25% of survey respondents, aged 15-24, recognized a JUUL e-cigarette device when shown a photo of the product. And among those who recognized JUUL, 25% reported that use of this product is called "JUULing," indicating that this product is so distinctive, it's perceived as its own category. However, it's likely that recognition is higher now given that JUUL's sales market share continued to rise throughout 2018 and top out at 75% among U.S. e-cigarette sales in July 2019.
The most recent data from the CDC's 2019 National Youth Tobacco Survey confirms JUUL's grip on America's kids. More than 59% of high school e-cigarette users reported that JUUL was their "usual brand." Among middle school e-cigarette users, the number was more than 54%. This equates to more than 3 million children reporting regular use of JUUL. Investigative reporting by Reuters shows that even early in its operations, JUUL was aware that its products were attracting unprecedented youth use, yet, in the face of enormous revenue growth, the company failed to take effective action to stem that trends.
Flavors are a top reason why young people begin using e-cigarettes. A 2018 Truth Initiative survey found that mint was among the top three favorite flavors among young JUUL users aged 12-24, meaning they chose it last time they vaped. New research shows that mint and menthol e-cigarette use among high school users rose from 16% in 2016 to 57.3% in 2019. Among high school JUUL users, 67.5% reported that their preferred flavor was mint or menthol. Another study, conducted before JUUL pulled its other flavors from the market, found that mint was one of the most popular flavors among high school student JUUL users, but that menthol was less so. However, study authors themselves caution that leaving both mint and menthol on the market undermines the purpose of removing flavors — which is to prevent kids from using e-cigarettes at all.
Promoted as a "satisfying alternative to cigarettes," JUUL is putting a new generation of youth at risk of nicotine dependence and future cigarette use.
JUUL has spent more than $1 million to market its products on the internet and has paid for campaigns on Twitter, Instagram and YouTube. However, recently JUUL announced that it would "suspend all broadcast, print and digital advertising in the U.S." It was not clear from the announcement how long that suspension would last.
QUITTING SMOKING
There are substantial research gaps in proving the effectiveness of e-cigarettes as quit smoking aids. The 2020 Surgeon General's Report on smoking cessation found that there is "inadequate evidence" to conclude that e-cigarettes increase smoking cessation. Similarly, the 2018 National Academies (NASEM) report found limited evidence on the effectiveness of e-cigarettes to promote quitting.
E-cigarettes are also not approved as quit aids by the FDA or the U.S. Preventative Service Task Force.
While some evidence supports the use of e-cigarettes as quit devices, recent research suggests that their efficacy for quitting is likely overstated.
The 2020 U.S. Surgeon General's report on smoking cessation suggested that e-cigarettes may help some adult users reduce their risk of smoking-related diseases if users avoid prolonged dual use, but found insufficient evidence to conclude that their use in general increases smoking cessation, citing the variable components of e-cigarettes, the different ways in which they are used and a dearth of evaluative studies.
Some evidence suggests that e-cigarettes with nicotine are associated with increased smoking cessation, compared to non-nicotine e-cigarettes. A 2020 systematic review of 50 studies that included adult smokers in the U.S. and other countries found moderate-certainty evidence that e-cigarettes with nicotine increase quit rates compared to those using nicotine replacement therapy or nicotine-free e-cigarettes. Nicotine e-cigarettes may also help more people to stop smoking than no support or behavioral support alone. The NASEM report also reported that more frequent e-cigarette use may increase an individual's likelihood to quit smoking.
A 2018 study among U.S. adults that explored whether e-cigarettes inspired more successful quit attempts found that users of e-cigarettes had 70% lower odds of quitting than non-users.
A 2019 study by the U.K. National Health Service and published in the New England Journal of Medicine found e-cigarettes may help adults quit. A group assigned to e-cigarettes as a combustible tobacco replacement were more likely to remain abstinent at one year compared with a group using nicotine replacement products (18% vs. 9.9%). However, a majority of e-cigarette users were still using e-cigarettes at the one-year follow-up. Researchers noted the study was based on a middle-aged adult population (median age of 41) actively seeking to quit smoking and receiving at least four weeks of behavioral support. Notably, the U.K. also places severe restrictions on the marketing of e-cigarettes.
While some e-cigarettes may help some people quit, the diversity of products as well as the variations in quality and the lack of regulation make determining the potential of any particular product as a quit aid difficult. Some smokers have switched to e-cigarettes or used them to quit tobacco completely, however, e-cigarettes, unlike FDA-approved cessation therapies, lack an evidence base that demonstrates their safety and efficacy. Truth Initiative supports regulation that encourages the development of consistently less harmful nicotine delivery alternatives that allow smokers to quit tobacco altogether or switch completely to a much less harmful, well-regulated product.
A recent meta-analysis of using e-cigarettes as smoking cessation tools suggested that their efficacy depended upon frequency and type of use. Overall, among adult smokers and adult smokers who expressed motivation to quit, consumer product e-cigarette use — e cigarettes bought from retail settings and used at will by consumers — was not significantly associated with cigarette smoking cessation. In terms of consumer product e-cigarette use, only daily e-cigarette use was associated with increased smoking cessation, while less than daily use was associated with decreased smoking cessation. When used in conjunction with smoking cessation therapy, however, randomized controlled trials found that e-cigarette use was significantly associated with increased smoking cessation. This current study provides evidence that e-cigarettes marketed as consumer products may not be effective tools in smoking cessation. More evidence is needed to understand how e-cigarettes can aid smoking cessation in a supervised manner.
One study showed that product appeal, including flavoring, is likely to encourage smokers to try to use e-cigarettes to quit. A 2020 study published in JAMA Network Open found that among adults, use of flavored e-cigarettes was more likely to be associated with quitting smoking than use of unflavored e-cigarettes, with more than double the odds of increased adult smoking cessation. However, given that flavored e-cigarettes constitute an overwhelming majority of the e-cigarette market in the U.S., stronger empirical evidence is needed to understand if and how flavors factor into smoking cessation.
However, because the youth e-cigarette epidemic in the United States and the youth appeal of flavored e-cigarettes go hand in hand, Truth Initiative strongly supports removing all flavored e-cigarettes from the market, regardless of device type. At a minimum, an e-cigarette manufacturer must show that the flavor itself is safe, helps smokers switch completely from combustible cigarettes, and does not attract youth before a product is allowed to go to market. In addition to flavor restrictions, Truth Initiative supports strong regulations to keep all tobacco products, including e-cigarettes, away from youth.
This Is Quitting
This is Quitting, Truth Initiative's first-of-its-kind, free and anonymous text message quit vaping program for teens and young adults, is helping more than 200,000 young people quit using e-cigarettes. The program first launched in January 2019, created with input from teens, college students and young adults who have attempted to, or successfully, quit e-cigarettes.
Preliminary data published in Nicotine & Tobacco Research showed that after just two weeks of using This is Quitting, more than half of participants — 60.8% — reported that they had reduced or stopped using e-cigarettes.
Teens and young adults can text "DITCHVAPE" to 88709 and get immediate help. Parents of young people who vape can get support at BecomeAnEX.org.
QUITTING VAPING
After a smoker switches completely to e-cigarettes, they should also stop using e-cigarettes to achieve the maximum health benefit. Many youth and young adult e-cigarette users, many of whom never previously used tobacco, are also in need of support to quit (see sidebar This is Quitting). Evidence from multiple sources indicate that both youth and young adult e-cigarette users want to quit and have made a quit attempt. Nearly two-thirds of adult e-cigarette users plan to quit vaping and almost a quarter of adolescents attempted to quit vaping in the past year. Here is what we know about reasons for quitting vaping:
A 2020 Truth Initiative study published in Addictive Behaviors found that teens and young adults enrolled in the Truth Initiative quit vaping program This is Quitting said they were driven to quit because of concerns about health (50.9%), cost (21.7%), the desire to be free from addiction (16%) and social factors such as others' impressions of them (10.1%).
Nearly two-thirds of adult e-cigarette users (62%) reported plans to quit e-cigarettes for good, according to research published in Nicotine & Tobacco Research in 2020.18 Trends in adolescents were slightly lower with 44.5% of youth aged 12-17 reporting that they seriously thought about quitting vaping, half of whom reported thinking about quitting within the next 30 days (50.2%).
A 2015 study in the International Journal of Environmental Research and Public Health found that reasons for quitting e-cigarettes varied by smoker status. Never smokers cited e-cigarettes being bad for their health and tasting bad as their reasons for quitting. Former smokers who gave up e-cigarettes were most likely to endorse that it was bad for their health, made them feel sick, and that they preferred another form of tobacco. Current smokers who quit e-cigarettes said that e-cigarettes were too expensive, they liked another form of tobacco better, and that e-cigarettes were not strong enough.
A 2014 study published in Nicotine & Tobacco Research found that young people cited losing interest (23.6%), perceiving e-cigarettes as "uncool" (16.3%), and health concerns (12.1%) as their top reasons for quitting vaping.
Recent research has also shown that the E-cigarette, or Vaping, product use Associated Lung Injury (EVALI) outbreak in 2019 and 2020 drove increased coverage about the dangers of vaping and internet searches for vaping cessation. A 2020 study published in Tobacco Control found 130% more news articles covering the dangers of vaping during the EVALI outbreak, and searches for vaping cessation were 76% higher than expected levels for the days during the period when the sources of the outbreak were unknown. A recent Truth Initiative study published in Tobacco Control also found that perceived risk of lung injury from e-cigarette use was associated with more than double the odds of intending to quit among current e-cigarette users.
Age differences: Reasons for e-cigarette use
Analyses from the Population Assessment for Tobacco and Health study show that the leading reason for youth and young adult e-cigarette use is "they come in flavors I like" — with 77.9% and 90.3% selecting this as a reason, respectively. In comparison, only 66.4% of adults aged 25 and over selected this as a reason.
The FDA has also reported that, among current youth users of e-cigarettes, 97% used a flavored e-cigarette in the past month. Youth and young adults had more than three times the odds of using fruit-flavored e-cigarettes compared to older adults.
The leading reason for e-cigarette use among adults (25 and older) was the belief that e-cigarettes may be less harmful than combustible cigarettes both to themselves and others, with 79% selecting this as a reason. Additionally, 7 in 10 (71.5%) adults indicated that they believed e-cigarettes could facilitate quitting.
HEALTH EFFECTS
E-cigarettes are threatening to addict a new generation to nicotine. E-cigarette use among young people, many of whom were not smokers in the first place, has skyrocketed in recent years. Nearly 20% of high school students, one in five, use e-cigarettes, according to the National Youth Tobacco Survey. Young people who use e-cigarettes are also more likely to start smoking cigarettes than their peers who do not vape.
E-cigarettes contain nicotine, sometimes at levels near or exceeding those found in combustible cigarettes. Nicotine is harmful to developing brains: younger users are more likely to become addicted, have more difficulty quitting and may be at higher risk for addiction to other substances in the future. While new products may be beneficial to smokers who completely switch from combustible tobacco, they still pose health risks and nonsmokers should never use them.
To date, no one knows the long-term effects of e-cigarette use, although research continues to investigate some of the rapidly emerging evidence of adverse effects on lung and cardiovascular health. Here's what we know about the health effects of e-cigarettes
A recent and robust research literature review of e-cigarette health effects found that use of these products has been associated with increased odds of chronic cough, phlegm and bronchitis, as well as asthma diagnoses.
Ongoing case studies and in vitro research that exposed human tissue to e-cigarette aerosol suggested that e-cigarettes may be causing quantifiable injury to the small airways of the lungs and were associated with a number of inflammatory diseases of the respiratory system, like pneumonia and interstitial lung disease.
Human cells exposed to vaped e-liquid have also been found to have decreased viability, with certain flavor compounds posing particular cell toxicity risks. Other studies also showcased impaired immune cell function in the lungs, raising questions about e-cigarette users' susceptibility to bacterial and viral infections of the respiratory system. There is uncertainty regarding the way these infections may manifest given the potential for other lung injury and inflammation in lung tissue from e-cigarette use.
The first study to link e-cigarette use to cancer was published in October 2019. Researchers found that mice exposed to e-cigarette aerosol for 54 weeks developed carcinomas of the lungs and abnormal bladder cell growth.
Research indicates that some flavors are potentially more toxic than others.

Researchers found that exposure to increased cinnamon flavoring caused significant cell death compared to other flavors.
Another concern related to flavoring stems from pulegone — a compound found in prepared oil extracts of certain mint plants. Pulegone is a known carcinogen and the tobacco industry has in the past reduced the amount of this compound in menthol tobacco products as a result of toxicity concerns. The FDA banned pulegone as a food additive in 2018, yet studies have identified that substantial amounts of this additive are found in mint and menthol e-liquid in the U.S. — raising concerns about the potential toxicity of these popular flavors.
Research also indicates that mixing multiple flavors can be more toxic to cells than exposure to just one flavor at a time.
Federal investigations into vaping-related illnesses
The emergence of vaping-related illnesses, which have prompted federal health agencies' investigations and advisories, underscore the urgency of research.
In August 2019, cases of e-cigarette or vaping use-associated lung injury (EVALI) sharply increased, afflicting e-cigarette users with respiratory and other symptoms, peaking in September 2019. As of February 18, 2020, a total of 2,807 hospitalized EVALI cases had been reported to the CDC in the U.S. with 68 cases resulting in deaths. A review of some of the affected e-cigarette users in two states reported that a majority of patients were experiencing cough, labored breathing, reduced blood oxygen levels and elevated white blood cell counts. Symptoms of EVALI can also include respiratory symptoms (shortness of breath, cough, chest pain), gastrointestinal symptoms (nausea, vomiting, stomach pain, diarrhea), and other symptoms like fever, chills, and weight loss.
A 2019 study by Mayo Clinic of 17 patients with vaping-related lung issues found that the injuries resembled "exposures to toxic chemical fumes, poisonous gases and toxic agents." Data from another study links EVALI cases to vitamin E acetate, an additive in THC-containing vaping products. Vitamin E acetate was present in bronchoalveolar-lavage (BAL) fluid in 48 out of 51 EVALI patients from 16 states, but it was not found in BAL fluid from the comparison group of 99 healthy individuals. Because 82% of the cases with specific substance use information available involved individuals who reported using THC-containing products, the FDA has recommended that consumers avoid purchasing vaping products of any kind on the street, using THC oil or modifying store-bought products.
The CDC has recommended that those who use e-cigarettes consider quitting and that children and women who are pregnant should not use e-cigarettes. For those who use e-cigarettes and experience similar symptoms CDC recommends seeking prompt medical care. It is important to note that the CDC has not conclusively determined the cause of the EVALI illnesses and researchers are not sure what combination of short-term, long-term or repeated exposure may contribute to lung injury.
CARDIOVASCULAR HEALTH
Research regarding the impact of e-cigarettes on cardiovascular health has yielded mixed results. Some studies have shown that short-term exposure to e-cigarette aerosol has no measurable harm on cardiovascular health. However, others suggest negative effects on resting heart rate, blood pressure and the cells that line the blood vessels. More extensive research is needed to gain perspective on the long-term effects of e-cigarette use on heart health.
Another pressing concern of e-cigarette use on cardiovascular health is the creation of carbonyl compounds from e-cigarette aerosol. Carbonyls are created when propylene glycol and glycerol – common solvents in e-liquid – are exposed to the high heat of an e-cigarette coil. Many of these carbonyl compounds have been previously associated with an increased risk of blood clot and atherosclerosis — a disease in which plaque builds on the walls of arteries, narrowing blood flow.
More research over a longer time period is needed to understand the full breadth of health consequences associated with the use of e-cigarettes as well as how their use compares to the well-established negative effects of long-term combustible cigarette use.
NICOTINE AND BRAIN DEVELOPMENT
Nicotine is an addictive substance, but its level of addictiveness can vary substantially depending on its mode of delivery. Nicotine delivered by the combustion of tobacco is the most addictive form.12 The rise in popularity of e-cigarettes that can deliver levels of nicotine similar to combustible cigarettes is causing concern about the potential risk for addiction.
Exposure to nicotine among youth is particularly dangerous since it has been shown to have an effect on key brain receptors, making young people more susceptible to nicotine addiction.
There is some evidence that the effect of nicotine on developing brains may prime not just nicotine addiction, but greater vulnerability to addiction to other drugs as well.
Studies in rats have shown that chronic nicotine exposure during adolescence can diminish cognitive functions like reduced attention span and enhanced impulsivity during adulthood. Adolescent rats exposed to nicotine showed altered long-term emotional responses including enhanced anxiety and fear and could result in a depression-like state during adulthood.
A study of university students found that e-cigarette use was significantly associated with higher levels of problematic alcohol/ illicit substance use and higher likelihood of drug use. E-cigarette use was also significantly associated with poorer self-esteem and greater scores on impulsivity, and that those who used e-cigarettes were more likely to have a history of ADHD, PTSD, gambling disorder, and anxiety.
In young people, the amount of nicotine needed to establish an addiction has been estimated at around 5 mg a day, or roughly one-quarter of an e-cigarette pod. In recognition of these and other risks related to e-cigarettes, the U.S. surgeon general issued an advisory on e-cigarette use among youth, urging parents, teachers, health professionals and states to take action to stop the epidemic among youth.
PREGNANCY
Because most e-cigarettes contain nicotine, which can alter nerve cell functioning in developing organisms, especially during fetal development, they should not be used by youth or pregnant women.
Pregnant women who use nicotine are also at a greater risk for stillbirth and preterm delivery.
CHEMICALS
While e-cigarettes may contain fewer toxins than combustible cigarettes, short and long-term effects of their use are unclear. What we do know is that they are not free of toxins and still deliver harmful chemicals.
At least 60 chemical compounds have been found in e-liquids, and still more are present in the aerosol produced by e-cigarettes.
Heavy metals such as cadmium, lead, nickel, tin and copper have all been detected in aerosols produced by e-cigarettes.
E-cigarettes produced fewer free-radicals than combustible cigarettes, however, even low levels of repeated exposure to free-radicals can cause oxidative stress, which increases the risk for cardiovascular and respiratory diseases.
Researchers have identified several substances which are either harmful or potentially harmful to e-cigarette users, including delivery solvents and propylene glycol, which can cause dry mouth and upper respiratory infections as well as pulegone, a known carcinogen.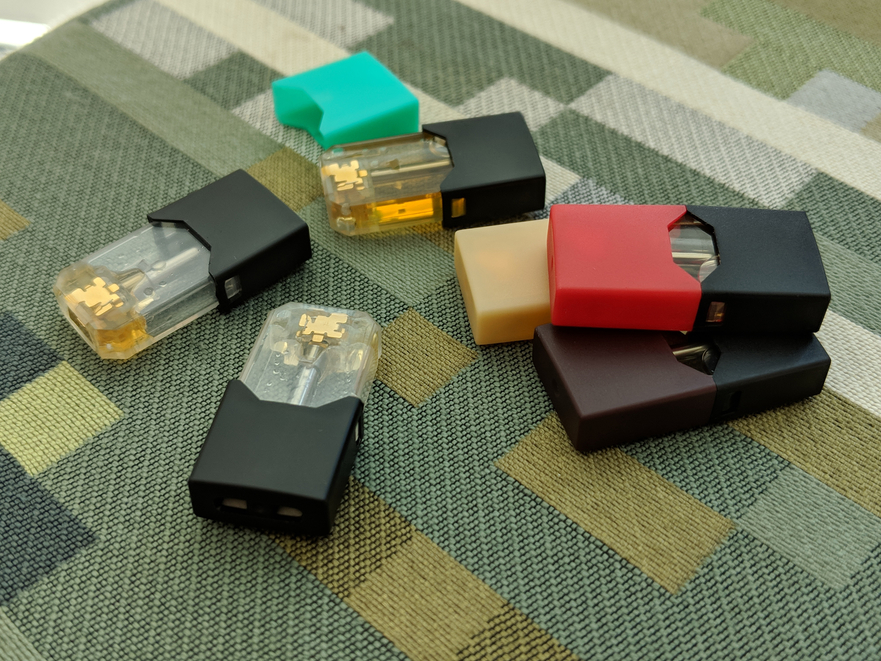 While e-cigarettes contain far fewer toxins than combustible cigarettes, they are not free of toxins and still deliver harmful chemicals.
EXPOSURE TO E-LIQUID
Accidental exposure or ingestion of e-liquids can be very dangerous and even fatal in case of accidental swallowing or injection.
There were 17,358 e-liquid exposure cases between January 2010 and December 2018. The annual number of e-liquid exposure cases went up 4990% between 2010 and 2018, from 57 cases to 2901 cases.
Children under 5 years accounted for 68.4% of all e-liquid exposure cases and those aged 5-24 accounted for 14.7% of all e-liquid exposure cases from 2010-2018.
EXPLOSIONS
Defective, poorly manufactured and improperly modified e-cigarettes have also been known to explode and cause injury. The rate of explosions is unknown, but both hospitals and burn centers have reported injuries from e-cigarettes.
In garbage trucks and waste management plants, lithium-ion batteries in e-cigarettes have been known to explode if damaged or exposed to extreme heat. In California, 56% of the fires at waste facilities between 2016-2018 were reported to have been caused by lithium-ion batteries.
SECONDHAND AEROSOL EXPOSURE
Exposure to aerosol from e-cigarettes may expose non-users to nicotine, but research indicates that secondhand aerosol results in substantially lower exposure to toxicants and carcinogens than cigarette smoke. However, exposure among vulnerable populations, including pregnant women and children, could still be dangerous.
LUNG ILLNESS AND SEIZURES
The FDA is investigating whether a direct relationship exists between the use of e-cigarettes and seizure risk or other neurological symptoms. As of August 2019, the agency had received 127 reports of seizure or other neurological symptoms that occurred between 2010 and 2019.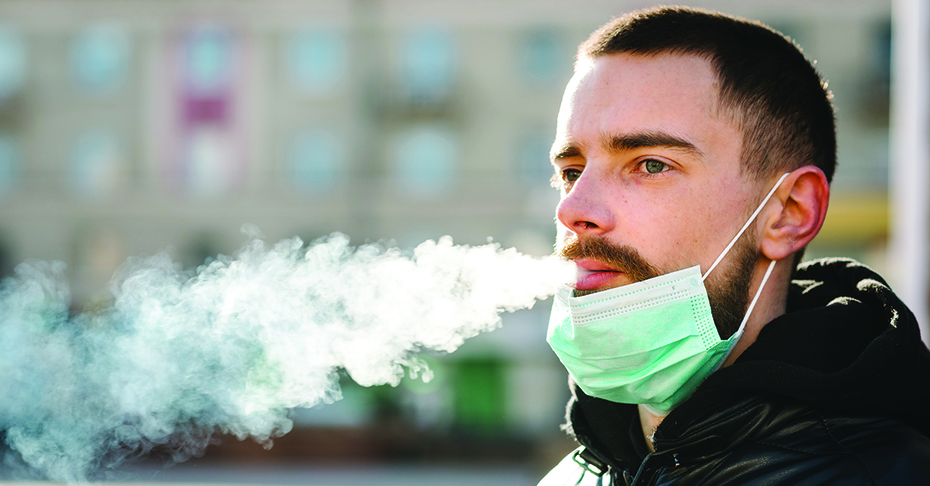 There is evidence that indicates that vaping exacerbates COVID-19 infection rates.
COVID-19
A paper published in June 2020 states that although there is no direct evidence suggesting the increased susceptibility of smokers/ vapers towards COVID-19 infection, various indirect studies prove that this population is at higher risk of severe symptoms and need for mechanical ventilation, compared to non-smokers.30 While analyzing factors associated with severe disease outcomes in patients admitted to hospitals in Wuhan, China, researchers showed that patients with a history of smoking were significantly higher in the progression group with severe symptoms than in the improvement group of patients showing recovery (27.3% vs 3%).
A 2020 study with 1607 observations in their data found positive associations between the proportion of vapers and the number of COVID-19 cases and deaths in each U.S. state. With every 1% increase in weighted proportion of vapers in each state, the number of COVID-19 cases and deaths were significantly greater, suggesting that vapers may potentially be more susceptible to COVID-19.
A 2020 study surveying adolescents and young adults 13-24 years old found that in comparison to non-users, testing positive for COVID-19 was five times more likely for people who had ever used e-cigarettes only, seven times more likely for people who had ever used both e-cigarettes and combustible cigarettes, and 6.8 times more likely for people who had used e-cigarettes and combustibles in the past 30 days. Potential reasons cited for why e-cigarette and cigarette use were associated with testing positive for COVID-19 include:

Heightened exposure to nicotine and other chemicals in e-cigarettes adversely affecting lung function
Repeated touching of one's hands to the mouth and face during e-cigarette use
Sharing e-cigarette devices
Research on the link between vaping and COVID-19 outcomes is rapidly evolving and more research is needed to clarify the relationship. However, there is evidence that indicates that vaping exacerbates COVID-19 infection rates.
INDUSTRY MARKETING AND YOUTH TARGETING
From introducing appealing flavors to offering college scholarships, manufacturers and sellers of e-cigarettes aggressively target young people. There are few federal restrictions on e-cigarette marketing, allowing companies to promote their products through traditional outlets — such as TV and radio — despite a ban in 1971 on cigarette advertising in both outlets to reduce cigarette marketing to children. E-cigarette companies also take advantage of other marketing outlets, including the internet, retail environments, and recreational venues and events.
E-cigarettes are the most popular tobacco product among youth, with about one in five high school students using e-cigarettes in 2020. Youth and young adults are widely exposed to e-cigarette marketing and have high awareness of the products. Among middle and high school students who reported contact with a potential source of tobacco advertising in 2019, such as going to a convenience store or gas station, watching television, or reading magazines, nearly 70% (69.3%) were exposed to e-cigarette marketing.
In January 2020, the FDA prioritized enforcement against the sale of most candy or fruit flavors in "closed pod" refillable e-cigarettes, like the popular brand JUUL, but exempted disposable flavored e-cigarettes including newer products like Puff Bar. The e-cigarette industry has responded by offering newer products that aren't covered by existing enforcement guidelines. In July 2020, the FDA issued warnings to e-cigarette retailers and manufacturers, including Puff Bar, to remove their flavored disposable e-cigarettes and youth appealing e-liquid products from the market.
MARKETING TACTICS
People most often heard about e-cigarettes through in-person communications, by seeing them for sale and through online and television advertisements, in which some celebrities endorsed the products.
E-cigarettes are promoted heavily online8 through e-cigarette company-sponsored advertisements, and on YouTube and Twitter.
Mobile ads are a popular place to advertise e-cigarettes since they have the potential to reach millions of young people.
Some e-liquids have been marketed to look like common food items — many of which appeal to kids. Early examples included marketing e-liquids as "Thin Mints," after the Girl Scouts' cookie and "Tootsie Roll" after the iconic candy. Those were removed, or at least renamed, after the companies owning those copyrights took action to protect their intellectual property. Other food and candy flavors remained on the market.

Since May 2018, the FDA, often in conjunction with the FTC, has taken action against several e-liquid companies that marketed their products to look like candy or other kid-friendly food items, such as Reddi-wip, Nilla wafers and Warheads candy. For more, see "Policy Environment".

The Tobacco Industry has a long history of targeting vulnerable communities, and the trend continues with e-cigarettes. In their 2019 campaign, JUUL advertised its products to military personnel by providing personal testimonials from veterans, discounts, and claiming that their products offer servicemen and first responders the tools to succeed at switching.
YOUTH MARKETING TACTICS
Youth may be exposed to pro-tobacco content and advertising on social media through various sources, including commercial brands as well as their own peers or influential accounts they follow. The nature of social sharing allows branded or promotional content to virally spread across platforms, which can increase youth exposure to overt marketing and pro-tobacco content posted by influential peer network members.
Since e-cigarettes were introduced around 2007, marketing efforts have increasingly shifted to young audiences. Between 2014 and 2016, exposure to retail e-cigarette advertising among young people jumped nearly 20%. By 2016, nearly 4 out of 5 middle and high school students, or more than 20 million youth, saw at least one e-cigarette advertisement.
Young people were most likely to see ads at retail stores (58.4%), followed by the internet (44.6%), newspapers and magazines (34.8%), and TV, streaming services, or movies (26.2%).
A 2019 study conducted by Stanford University School of Medicine found JUUL advertisements strikingly similar to traditional tobacco advertising in tone and imagery (smoking as pleasurable, relaxing, stylish, or romantic).
JUUL has also targeted children as young as third grade by funding summer camps, visiting schools and paying community and church groups to distribute their materials, according to recent congressional testimony.
On Oct. 17, 2019, JUUL announced that it would "suspend all broadcast, print and digital advertising in the U.S." It was not clear from the announcement how long that suspension would last.
Tobacco company Reynolds American Inc. attempted to expand their share in the e-cigarette market by using price promotions, TV spots, billboards, and social media posts to advertise their e-cigarette device Vuse. Using models as young as 25, the brand hired musicians and artists and used music and images aimed at younger adults to advertise their product on social media.
As of July 22, 2020, there were 758 JUUL civil lawsuits across the U.S. brought forward by e-cigarette users or their parents, with many lawsuits claiming JUUL marketing targets minors. Separately, as of April 2021, there were 15 lawsuits brought by state attorneys general that allege, among other things, that JUUL targeted youth. A group of 39 state attorneys general launched investigations into JUUL's marketing practices, specifically focusing on whether JUUL targeted underage users, and its claims about nicotine content and safety.
E-CIGARETTES ON SOCIAL MEDIA
A 2018 study found that exposure to e-cigarette advertisements on social media among young adults was strongly associated with positive expectations of e-cigarette use — like the idea that using e-cigarettes would provide a pleasurable taste and smell and that it was safe and socially acceptable. These outcomes were also found to be directly correlated with current use.
Even among non-smokers, exposure and marketing through social media linked e-cigarettes with increased perceptions of stylishness and popularity. Of the study participants, 19% regularly saw e-cigarette ads on Facebook and 16% on Instagram, and even more participants reported having seen e-cigarette related posts on Facebook (24%) and Instagram (20%).
The largest e-cigarette forum (/r/ electronic_ cigarette) on reddit had over 203,000 subscribers as of April 2021.27 Another subreddit, titled /r/UnderageJUUL, at one point contained 844 members before it was shut down by reddit. Posts included discussions of flavors as well as methods of obtaining JUULs or pods. Most posts in this thread did not reference age, but those that did, mentioned ages from 13 to over 21.
A 2018 study found that e-cigarette users who are male and younger were the most likely to participate in online discussion forums related to e-cigarettes.
Additional research has shown that celebrity endorsements of e-cigarettes on social media can have an impact on young adults. A study of college undergraduates found that the appearance of celebrities on an e-cigarette social media brand page significantly increased intentions to use e-cigarettes and positive attitudes towards the devices. This effect was not seen in those who saw non-celebrity endorsers or pages displaying only the product.
A September 2020 study found that the top 10 videos featuring Puff Bars on the social media app Tik Tok received between 2.8 and 42.4 million views. The three most popular videos featured individuals pushing large amounts of used Puff Bars over the edge of a desk with the audio "nicotine addiction check," suggesting using the product was addictive. While none of these videos were confirmed to be ads or sponsored by Puff Bar, the study suggests further research is needed to assess how the presence of these products on social media impacts exposure youth initiation of vaping products and harm perception.
JUUL LEADS SOCIAL MEDIA MARKETING
The makers of the popular e-cigarette JUUL have been at the forefront in marketing to young people on social media, on platforms like Facebook, Instagram, Twitter and Youtube.
In 2015, JUUL spent more than $1 million to market its products on the internet and has paid for campaigns on Twitter, Instagram and YouTube.
Because JUUL relied heavily on social media advertising for its launch, unlike other e-cigarette brands who focused their marketing through traditional outlets (e.g., TV), teen and young adults made up a significant majority of JUUL's social media audience.
JUUL also hired social media influencers for product promotion. In an investigative report on vaping influencers, one individual reported receiving $1,000 for a blog and Instagram post about JUUL. They had an entire department dedicated to influencer marketing and specifically looked for influencers under 30 and created a "VIP Portal" for celebrities. During congressional testimony in August 2019, JUUL repeatedly stated that it does not have a celebrity or influencer program that would appeal to younger users. Yet, contracts with multiple agencies from the company's own records show JUUL enacted a massive influencer engagement campaign to coincide their launch in 2015.
In November 2018, JUUL's Instagram account had 77,600 followers and #juul had 260,866 postings. By January 2019, JUUL's hashtag had 336,308 posts. In a report published in March 2020, researchers found more than 8,000 JUUL-related videos that received a total of 260 million views from 2016-2018.
On Nov. 13, 2018, JUUL Labs announced they would be shutting down their U.S.-based Facebook and Instagram accounts to curb youth e-cigarette interest and use. The official Twitter account has been inactive since August 2019.
There were 366,786 JUUL-related tweets in 2017, 17 times more than the previous year. A 2018 study found the surge of tweets mirrored JUUL's sizable growth in retail sales.
Another study analyzed all public active profiles following JUUL's official Twitter account in April 2018. Of the 9,077 active individual followers, researchers estimated that 80.6% were aged 13-20, despite the account stating that one must be 21+ to follow.
EXPERIENTIAL MARKETING
Some e-cigarette companies use experiential marketing to target public places — including busy street corners, shopping centers, parks and beaches — to interact directly with consumers.
In 2020, Rolling Stone magazine and Vuse, a fast-growing vaping brand owned by tobacco giant Reynolds American, promoted a rooftop concert series livestreamed from New York City that critics say is meant to make e-cigarettes look cool to kids.38 Vuse promoted the series heavily on its Instagram page. It is important to note that the Tobacco Control Act prohibits similar activities for cigarettes and smokeless tobacco.
JUUL launch parties in New York City and the Hamptons in 2015 featured young celebrities like 17-year-old model Luka Sabat who promoted the event to young social media followers.39 JUUL sponsored a "Music in Film Summit" at the 2018 Sundance Film Festival in Utah.
In 2013, blu eCigs® sponsored the Sasquatch! Music Festival in Washington, featuring a vapor lounge with surprise guest appearances from top performers, device charging stations, an interactive social media photo booth and samples of blu eCigs. It also sponsored a similar "Electric Lounge" the same year at the SXSW Music Festival in Austin, Texas.
WHERE E-CIGARETTES ARE SOLD
E-cigarettes are sold at conventional tobacco retailers, such as convenience stores, gas stations, pharmacies and tobacco shops. They are also sold at non-traditional retailers such as online retailers or vape shops. In December 2019, the federal minimum age for sale of tobacco products — including e-cigarettes — was raised from 18 to 21 years, known as Tobacco 21.
It is difficult to monitor and analyze the market due to differences in the tracking of e-cigarette sales. Common sales-tracking and retail measurement companies like Nielsen do not examine vape shop data, which may constitute as much as 20% of the market.
Recent sales data show that e-cigarette sales increased by 122.2% during September of 2014 to May of 2020. Disposable product sales nearly doubled from 10.3% to 19.8% from August 2019 to May 2020 alone.  
In 2018, the FDA contacted eBay and raised concerns about the site's continued sales of JUUL and other tobacco products — something that was against their company policy. As a result, eBay agreed to work with the FDA and has tried to remove those listings from its website. It also published an explicit policy outlining the reasons why tobacco products cannot be sold on their site.
Because these non-traditional sources are not tracked by scanner data or other tracking, it is difficult to know how much of the market they represent. However, analysts have made some estimates. One paper noted that in 2014, traditional tobacco outlets accounted for less than one-third of the $2.5 billion e-cigarette market. According to one recent estimate, the breakdown of retail channels for the 2019 e-cigarette market is:

Vape shops: 19%
Convenience stores, food, drug and mass retail channels: 53%
Online and other retail channels: 28%

The Prevent All Cigarette Trafficking (PACT) Act – which prevents cigarettes, smokeless and roll-your-own tobacco products from being shipped via the U.S. Postal Service — was amended in December 2020 to include e-cigarettes. The PACT Act limits sales of e-cigarettes to 10 pounds or less and requires that sellers verify the purchaser is above 21.
POTENTIAL PUBLIC HEALTH IMPACT
The potential public health impact of e-cigarettes is a subject of hot debate. Despite inconclusiveness about their short- and long-term health effects, e-cigarettes remain largely unregulated and their popularity among youth and young adults continues to rapidly escalate. At the same time, serious illness and deaths have been linked to their use and recent research could not conclusively determine that they posed fewer health risks than combustible cigarettes.
Moreover, their potential positive public health impact will be limited if they are not considered as part of comprehensive product regulation, including actions such as reducing nicotine to non-addictive levels in the most dangerous products, such as cigarettes, and eliminating flavors and marketing practices that attract youth. Continuous and rigorous implementation of traditional tobacco control measures, such as taxation, clean indoor air policies and public education is also essential. Additionally, an overarching nicotine regulatory policy is needed to help improve quitting drugs and to ensure that the FDA reviews tobacco products, including e-cigarettes, so that consumers better understand what can help them quit or completely switch from combustible cigarettes. Finally, the recent news of vaping-related illnesses requires swift research and effective guidance to protect the public's health.
POLICY ENVIRONMENT
The emergence of e-cigarettes and the resulting explosion of youth e-cigarette use have presented regulatory challenges. These issues include determining policies to deter youth use, appropriate taxation, clean air regulations, as well as standards for product approval. There is a web of policy approaches to these issues at all levels of government, including the federal, state, local and international level.
FDA REGULATION
In May 2016, the FDA finalized its "deeming" regulation, asserting the agency's authority to regulate e-cigarettes and any product meeting the definition of "tobacco product" under the Tobacco Control Act. The FDA can now establish product standards and regulate the manufacture, import, packaging, labeling, advertising, promotion, sale and distribution of e-cigarettes, including components and parts of e-cigarettes.
The deeming regulation includes requirements for pre-market review for e-cigarettes as new tobacco products. In order to receive marketing approval for a new product, a manufacturer must demonstrate that the marketing of the new product would be "appropriate for the protection of public health," taking into account both the likelihood of new tobacco product initiation and the increased or decreased likelihood that existing users of current tobacco products would stop using those products.
When FDA "deemed" e-cigarettes as part of its jurisdiction in 2016, it gave e-cigarettes that were currently on the market two years to prepare premarket applications (known as PMTAs). These applications are what FDA uses to to determine whether new tobacco products are "appropriate for the protection of public health" before they are allowed on the market. In 2017, FDA extended the deadline for completed applications to August 2022. When several public health groups, including Truth Initiative, sued FDA, a federal court ordered the agency to require applications be submitted by May 2020. The deadline changed again to September 9, 2020, following FDA and tobacco industry requests for more time due to the COVID-19 pandemic.
Now that the September 9, 2020 deadline has passed, FDA has begun reviewing thousands of applications to determine if those products meet the public health standard set by the Tobacco Control Act. While the agency is supposed to conduct its review of those products in one year, FDA's Center for Tobacco Products director has admitted "the likelihood of FDA reviewing all of these applications during the one-year review period is low,"6 foreshadowing yet more delays in necessary and urgent regulatory action.
MODIFIED RISK TOBACCO PRODUCTS
Under FDA rules, before an e-cigarette manufacturer can market a product as presenting lower risk of exposure to toxins or lower risk of adverse health effects, it must submit the proposed marketing and labeling to the FDA so that it can assess veracity of the claim and whether the marketing of the product would benefit the health of individuals and the population as a whole, considering such factors as new initiation of tobacco use or suppression of cessation of more harmful products such as cigarettes. To date, no e-cigarette manufacturer has requested such permission from the FDA.
CLEAN INDOOR AIR POLICIES
There are no federal policies restricting indoor use of e-cigarettes other than policies in individual federal buildings or properties.
Legal challenges to e-cigarettes
A series of lawsuits in recent years have also been brought against JUUL and other e-cigarette manufacturers by young people who became addicted to JUUL, claiming JUUL's marketing was aimed at youth and instigated these plaintiffs' use. California, North Carolina, Illinois, Connecticut, Colorado, Massachusetts and the District of Columbia have announced either litigation or investigation into JUUL's marketing practices and/ or health claims.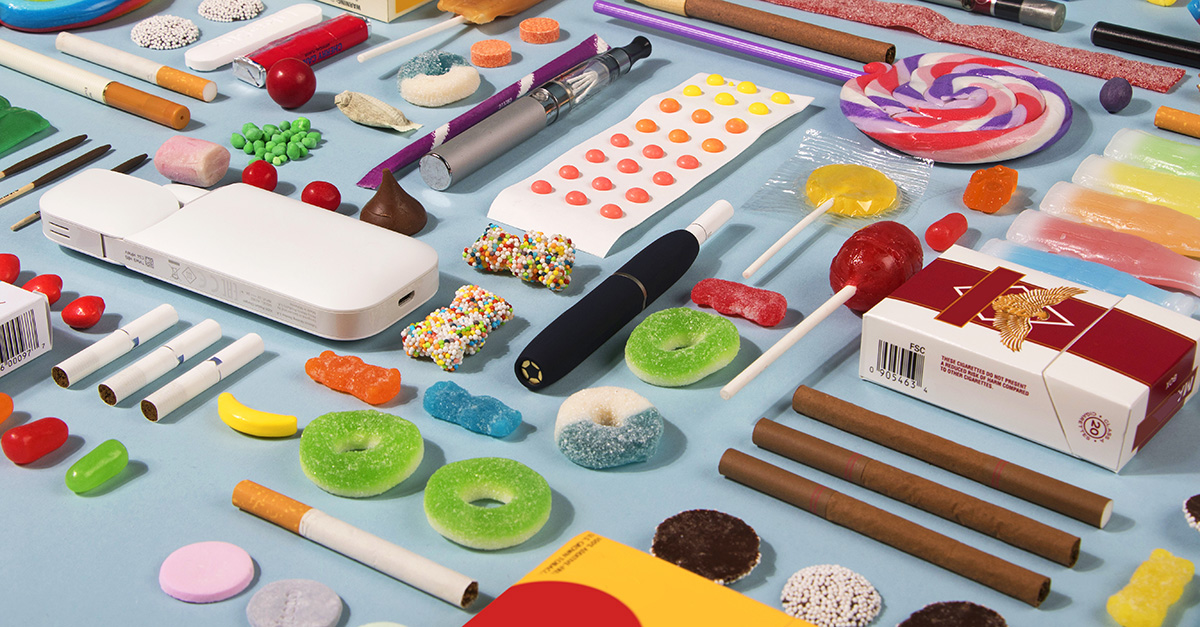 FLAVORS
The Tobacco Control Act bans characterizing flavors other than menthol from cigarettes. Non-cigarette products are not included, but the FDA does have power to issue such bans for other products, such as e-cigarettes, by developing product standards. The FDA has yet to take such action. However, the FDA issued an enforcement policy in January 2020 that effectively bans flavored cartridge-based e-cigarettes, other than menthol.8 Therefore, under current federal law, most e-cigarette products, such as e-liquids and refillable tanks, disposable e-cigarettes and menthol flavored pod e-cigarette products are allowed on the market.

As FDA reviews e-cigarette products, it will be important to monitor whether any flavored products are authorized for sale. Truth Initiative has encouraged FDA not to authorize any flavored e-cigarettes other than tobacco flavor because they attract youth and harm public health.

As of December 31, 2020, seven states and an estimated 330 counties, cities, towns, and tribes have restricted the sale of flavored e-cigarettes. However, a large majority of the U.S. population is not covered by such restrictions.

In 2019, Massachusetts became the first state to enact a comprehensive ban on the sale of all flavored tobacco products, except in smoking bars, such as cigar bars and hookah lounges, where it is allowed for on-site consumption.
California enacted a law to prohibit the sale of all flavored tobacco products, except hookah, premium cigars, and pipe tobacco. However, the tobacco industry successfully sought a referendum and the law will be voted on by the state's voters on the next statewide ballot, currently scheduled for November 2022, though this date is subject to change.
The Maryland Comptroller's Field Enforcement Division prohibits the sale of flavored cartridge-based e-cigarettes and disposable e-cigarettes, except for menthol.
New Jersey and Rhode Island prohibit the sale of all flavored e-cigarette products. Rhode Island's policy is a regulation by the state's health department, making permanent the governor's emergency regulations.
New York prohibits the sale of all flavored e-cigarettes, except those approved as part of an FDA premarket approval.
Utah restricts the sale of flavored e-cigarettes, except menthol and mint, to non-retail tobacco specialty businesses.
MARKETING
There are few federal restrictions on the marketing of e-cigarettes, and, unlike traditional cigarettes, e-cigarettes can be advertised on television and radio.
Marketing materials of e-cigarettes cannot make claims that their product exposes users to fewer toxins or reduces harm unless the FDA grants an order allowing such claims.
E-cigarette products whose labeling or advertising is misleading can be considered to be misbranded under the Tobacco Control Act. This includes e-cigarette marketing that imitates food or beverages, as mentioned above.
States have the ability to regulate the time, place and manner of tobacco marketing, including e-cigarettes. For example, Colorado prohibits retailers from advertising e-cigarettes in a manner that is visible from outside the retail location, Delaware prohibits web sites and online and mobile applications directed at minors from marketing or advertising e-cigarettes, and New York prohibits advertisements for e-cigarettes from display in store fronts, exterior windows and doors of stores within 1,500 feet of a school (500 feet for New York City).
PRODUCT PACKAGING
The FDA deeming regulation, effective Aug. 10, 2018, established a nicotine warning label that must appear on all tobacco products, including e-cigarettes: WARNING: This product contains nicotine. Nicotine is an addictive chemical. The warning label must comprise 30% of the two principal display panels and be in a large, legible font.
The Child Nicotine Poisoning Prevention Act of 2015 requires the Consumer Safety Product Commission to establish requirements for child-resistant packaging for e-cigarettes and e-liquids. The law, passed before the deeming regulation gave the FDA authority over e-cigarettes, maintains the FDA's ability to regulate such packaging. The FDA has indicated that it will also issue regulations requiring child-resistant packaging for e-cigarettes and e-liquids, but has not yet done so.
TAXATION
There is no federal excise tax on e-cigarettes.
YOUTH ACCESS AND MINIMUM AGE OF SALE
In December 2019, the U.S. adopted a law raising the federal minimum age of sale for all tobacco products to 21 years old, effective immediately. Retailers must check photo IDs of everyone under age 27 who attempts to purchase tobacco products, including e-cigarettes.
Vending machine sales of e-cigarettes are prohibited, except in facilities where only those over 18 are allowed.
Free samples of e-cigarettes and their components are also prohibited as of Aug. 8, 2016.
The Tobacco Control Act required the FDA to issue regulations to establish age verification requirements for the internet and other non-face-to-face purchases of any tobacco products. However, the FDA has yet to implement this set of regulations.
30 states have established a minimum age of 21 for the sale of tobacco products. States and some localities have the ability to establish a higher age of sale for tobacco products beyond the federal requirement.
In 2020, the U.S. Congress passed the "Preventing Online Sales of E-cigarettes to Children Act" which prevents the mailing of e-cigarettes through the mail, and other carrier services, similar to existing bans on mailing cigarettes and smokeless tobacco. Products approved by FDA as cessation products or for other therapeutic purposes are exempt from this provision (e.g. Nicotine Replacement Therapies such as nicotine gum, or patches).
INTERNATIONAL POLICIES
International regulation of e-cigarettes varies widely, and, due to the relatively recent introduction of the product category, is rapidly changing.
The Institute for Global Tobacco Control at the Johns Hopkins Bloomberg School of Public Health keeps a database of international e-cigarette laws. 30 countries ban the sale of all types of e-cigarettes, 49 countries regulate the sale of e-cigarettes or require marketing authorization prior to sale, four countries prohibit the sale of nicotine-containing e-cigarettes, and six countries do not have regulations on the sale of e-cigarettes beyond age of majority purchase rules.
The European Union has enacted standards for e-cigarettes, including restricting the strength of nicotine fluids (2 percent maximum), limiting tank size on vaping devices (2ml maximum), requiring child resistant packaging and prohibiting cross-border advertising of e-cigarettes. Some member states have further restrictions on the age of sale and taxes.
Notably, the United Kingdom has been most active in promoting e-cigarettes as a reduced harm alternative to cigarettes. Public Health England has encouraged the National Health Service to make e-cigarettes available to smokers looking to quit or switch.18 The UK allows for the licensing of e-cigarettes as medicinal quitting aids, but no manufacturer has yet taken this route to product approval. In addition, the UK has stringent restrictions on the marketing of e-cigarettes.
Download the E-Cigarette Fact Sheet
More in emerging tobacco products