News Article
Youth activists call on decision-makers to declare vaping nicotine a mental health issue
Young activists gathered at the National Mall in Washington, D.C., to call attention to the impact that vaping nicotine is having on youth mental health and demand decision-makers declare it a mental health issue.
As part of the truth Moment of Action for Mental Health on April 27, the activists – including former e-cigarette users – led young people across the country in a "collective breath" via Instagram Live to signal to the White House, Food and Drug Administration, and other decision makers that youth vaping is a mental health issue. During and leading up to the Moment of Action for Mental Health, truth collected more than 300,000 symbolic breaths via the Instagram livestream, an interactive Snapchat lens, and a custom breathing exercise video through a partnership with the app Breathwrk.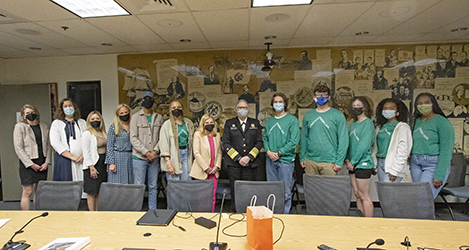 "There are so many predatory industries that are trying to sell us things that actually enhance our feelings of anxiety and depression – like vaping nicotine – and, instead, we're going to actually do something that we know can be helpful," said Giana Darville, a former truth ambassador and youth board liaison for Truth Initiative, on Instagram Live before leading the collective breathing exercise.
The Moment of Action is part of the truth youth prevention and education effort Breath of Stress Air, which debunks the marketing of e-cigarettes as stress relievers and calls out vape companies for selling vaping as a way to deal with stress, especially during the COVID-19 pandemic. In fact, research shows vaping nicotine can increase anxiety symptoms and stress levels. Breath of Stress Air effort expands the latest campaign from truth, It's Messing with Our Heads, which exposed nicotine's role as a contributor to the worsening youth mental health crisis through the launch of a fake vaping company called Depression Stick!
The activists included more than a dozen young people from across the country, including Alabama, Alaska, Mississippi, New Hampshire, and Tennessee, who are leading education and awareness efforts about the dangers of vaping nicotine among youth in their communities. To elevate the discussion around vaping and mental health and call for it to be declared a public health crisis, they visited 15 congressional offices, including those of Reps. Raja Krishnamoorthi and John Katko and Senators Cory Booker and Bill Hagerty. They also met with members of the Biden Administration and Health and Human Services Assistant Secretary of Health Admiral Rachel L. Levine.
"This gets our voice out there," said Xavier Lynum, a 2021 truth Ambassador and IMPACT scholarship winner, who helped lead the Moment of Action. "It sends a very strong message to all the legislators and important people we've talked to all week."
The event comes on the heels of an advisory issued by U.S. Surgeon General Vivek Murthy on the state of mental health among young people, in which he called youth mental health an "urgent public health crisis." At the same time, the latest 2021 National Youth Tobacco Survey shows that youth vaping remains at epidemic levels with more than two million high school and middle school students using e-cigarettes. 
To close out the event, Darville told the crowd: "Keep breathing, keep taking care of yourself, keep doing your activism your way, and even though we know that vaping nicotine can increase feelings of stress and anxiety, we have so many other outlets that are available to us to make us feel just a little bit better."
More in tobacco prevention efforts