News Article
Cigarettes are still a popular on-screen prop – and it's fueling youth nicotine addiction
Across hit shows like "Shameless," animated series such as "Big Mouth," major movies like the remake of "West Side Story," and music videos from pop stars including Bruno Mars, cigarettes remain a popular prop even as peer-reviewed research finds that smoking images influence young people to start using tobacco products.
As the youth vaping crisis persists – over 2.5 million middle and high school students reported e-cigarette use in 2022, according to the latest data from the Centers for Disease Control and Prevention – research shows on-screen tobacco imagery is directly contributing to the problem. Long-established research tells us that smoking in movies prompts young people to start smoking and Truth Initiative research published in 2020 was the first to establish a link with episodic streaming entertainment, demonstrating that exposure to tobacco imagery in such media can triple a young person's odds of starting to vape.
These images clearly have influence and, according to Truth Initiative's fifth annual report analyzing tobacco in the year's top entertainment, continue to be too common.
25 million young people exposed to tobacco imagery in most popular streaming and TV shows
Tobacco imagery keeps lighting up screens across TV shows, movies, and music videos. Among the 15 shows in 2021 most popular among 15- to 24-year-olds, 60% contained depictions of tobacco, showing no improvement from 2020 and effectively exposing 25 million young people to tobacco imagery, according to the report "While You Were Streaming: Tobacco's Starring Role."
Total tobacco instances in top streaming shows increased from 2020 (425 vs 390), with leading transgressors including Showtime's "Shameless" – 2021's top offending network and program – Fox's "The Simpsons," FX's "American Horror Story" and its spinoff "American Horror Stories," and Netflix's "Big Mouth" and "On My Block." Previous top offending network Netflix notably decreased its number of tobacco depictions from 651 in 2020 to 157 in 2021, although youth-rated and frequently binge-watched "Stranger Things" continues to include tobacco imagery despite the network's 2019 pledge to eliminate tobacco depictions in youth-rated shows.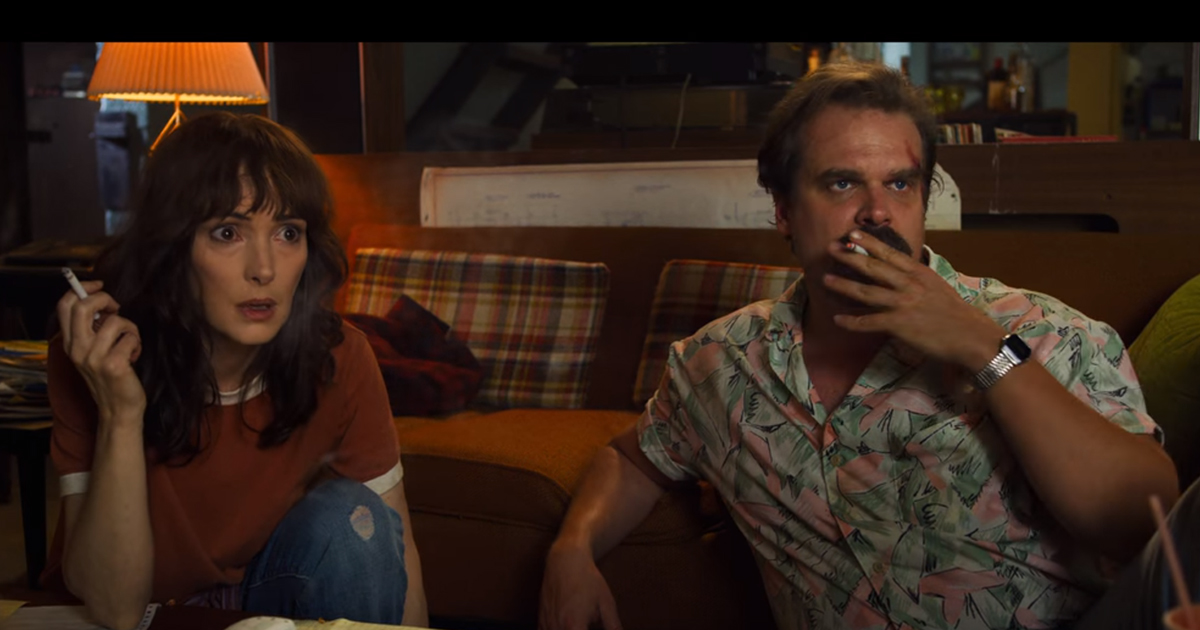 Movies and music videos keep tobacco in the spotlight
Movies and music videos also provide platforms for youth exposure to tobacco and often portray tobacco use as edgy, glamorous, and cool. According to an analysis by NORC at the University of Chicago, 47% of top movies released in 2021 and available on streaming exposed an estimated 25 million young people to tobacco imagery. The list of 2021 movies with tobacco imagery included the PG-rated "The Girl Who Believed in Miracles, "Westside Story" and 16 films rated PG-13 or under.
Analysis of the top 2021 Billboard songs revealed that 12.8% had 290 tobacco depictions total in their music videos – a decrease from 23% in 2020. The 2021 music videos – by Anderson.Paak and Bruno Mars, Elle King and Miranda Lambert, Post Malone, and others – still exposed many people to tobacco imagery as they were viewed on YouTube over 2 billion times.
Accelerated progress is needed to protect young audiences
The pervasiveness of on-screen tobacco imagery points to an overall problem with the normalization and glamorization of smoking and vaping in entertainment media and pop culture. The entertainment industry is facing increasing pressure from public health groups, policymakers, and other public officials to do more to protect young viewers and there have been some incremental signs of progress. Netflix and Fox decreased tobacco depictions and the percentage of top Billboard songs that included tobacco in their music videos dropped. These improvements must continue and should become part of permanent policies and other actions to reduce youth exposure.
Truth Initiative is pushing for urgent action to address the issue, including developing and publishing comprehensive policies that prohibit tobacco imagery, certifying that companies have not received industry payoffs, and distributing tobacco and vaping prevention messages. Truth Initiative's long-standing Tobacco-Free Screens Coalition works with local community agencies and state and national partners to eliminate tobacco product use on screens and to help educate creatives in the entertainment industry.
The entertainment industry should not be complicit with the tobacco industry in putting a new generation of young people at risk of nicotine addiction. They have the power, and the facts about the impact of smoking and vaping imagery on youth, to change the picture for good.
More in tobacco in pop culture