News Article
Action needed: Tobacco in pop culture
Entertainment media and pop culture continue to portray tobacco use positively, as a normal social behavior and as glamorous, rebellious and edgy. Images of any type of tobacco use — cigarettes, e-cigarettes, cigars, smokeless tobacco, and others — have influence, especially among youth and young adults, who are particularly susceptible to social and environmental influences to use tobacco.
Despite paid tobacco product placements in movies and TV being prohibited by the 1998 Master Settlement Agreement and codified into federal law by the 2009 Tobacco Control Act, tobacco imagery can still be seen on screens everywhere today. This includes in movies, TV, streaming media, music videos and video games. Additionally, the expansion of the media landscape and increasing screen time among young people means that there are more opportunities for exposure than ever before.
Taking action on tobacco use in pop culture is especially crucial given the high rate of e-cigarette use among young people. Vaping nicotine is threatening to addict a new generation to nicotine, and a groundbreaking Truth Initiative study finds that youth and young adults with high exposure to popular streaming and TV shows containing tobacco images have three times the odds of starting to vape compared to their peers with no exposure. These findings add to well-establish research linking exposure to smoking in movies with higher likelihood of smoking among young people. Keeping tobacco imagery out of movies, streaming content, video games and other forms of pop culture and entertainment media is critical to protecting the health of youth and young adults.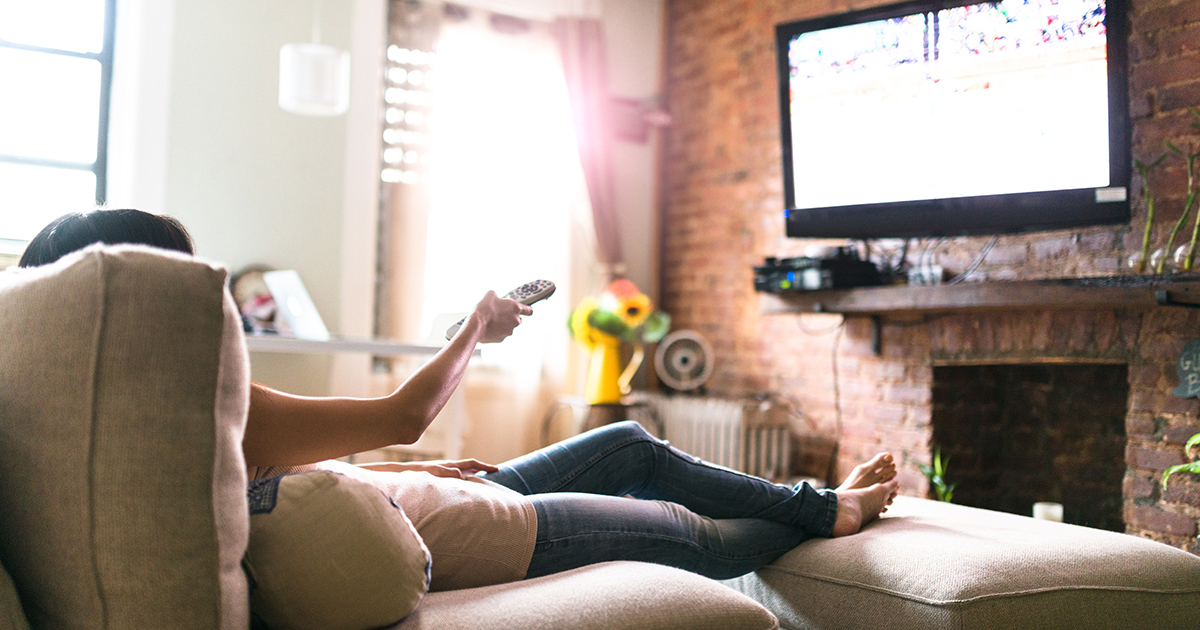 Tobacco in movies
Is smoking in movies bad?
Research shows that youth exposure to tobacco imagery in movies directly influences youth smoking behaviors. For example:
Thirty-seven percent of adolescents who start smoking do so because of smoking images they saw in movies.

Youth who are heavily exposed to on-screen smoking imagery are approximately two to three times as likely to begin smoking, compared with youth who are lightly exposed.

Implementing an R rating for movies with smoking would lead to an 18% decline in teen smoking and prevent up to a million deaths among children and teens alive today.
Today, all six major studios — Comcast, Disney, Fox, Sony, Time Warner and Viacom — have adopted policies to decrease tobacco depictions in their youth-rated films. Still, tobacco use remains prevalent in movies that appeal to youth because many of these policies include exceptions and loopholes. Additionally, with new movie releases increasingly available via at-home streaming, many young people have more access to movies of all ratings.
A new report by the National Opinion Research Center finds that tobacco depictions in movies remain a pervasive problem. In 2020, 38% (27 out of 71) of top-grossing movies included tobacco depictions, including 10 movies that were rated appropriate for youth audiences. Amazon's PG-rated movie "The Personal History of David Copperfield" included 13 total tobacco incidents, all images of cigars and pipes. The remaining 9 out of 10 youth-rated movies that included tobacco were rated PG-13, like Amazon's "Words on Bathroom Walls" with 35 instances of cigars depicted and the independent animated movie, "My Hero Academia: Heroes Rising" with 22 instances of cigars. Cigars were the most common tobacco product shown in youth-rated films, according to the report. In total there were close to 1,000 incidents of combustible tobacco depictions in 2020 top movies.
Action needed: Movies
Truth Initiative joins several other public health groups in endorsing measures to reduce youth exposure to tobacco in movies, including:
Prohibiting the identification of tobacco brands in movies


Evidence shows that teens are more susceptible to brand promotion than adults.1 Cigarette and other tobacco product brands, such as e-cigarettes like JUUL, are some of the most recognizable brands among youth and young adults.2,3,4 The popularity of JUUL – it held a majority of the entire e-cigarette market -- spurred many copycat products that mimic its design. The most popular e-cigarette today is Puff Bar, a disposable version that looks similar to JUUL.

Ensuring that tobacco companies and their representatives have not paid media companies in exchange for using or showing tobacco products in movies




Movie studios must certify that no payment for brand placement took place at any point during production, and they can confirm that by adding a note in movie credits.

5
Requiring strong anti-tobacco ads to run before any film with tobacco, regardless of its rating
Showing evidence-based and proven-effective anti-tobacco ads from public education campaigns like truth® helps to counteract the impact of smoking imagery in a film.
Giving an R rating to all movies that contain smoking unless the movie clearly depicts the dangers and consequences of tobacco use or accurately depicts a historical figure who used tobacco


Given the strong connection between tobacco imagery and youth tobacco use, tobacco does not belong in youth-rated films. Giving an R rating to movies that contain tobacco will keep parents aware and help them and their children make appropriate decisions.

Disallowing production subsidy policies to support movies that contain tobacco use


Films with tobacco depictions should not be eligible for state or local production subsidies, including tax breaks and other incentives. It makes bad financial and health sense for states to support movies that promote tobacco use with these subsidies, considering state governments pay $39.9 billion each year on tobacco-related health care costs through Medicaid.
Tobacco in TV and streaming
Smoking on streaming services like Netflix
The popularity of streaming, combined with the pervasive rise of smoking in episodic content, is putting a new generation of young Americans at risk.
Truth Initiative has released four reports on this topic, showing that tobacco imagery pervades streaming shows despite pledges by media companies to reduce on-screen tobacco use. Researchers analyzed the 15 most popular broadcast and streaming shows among young people aged 15-24 and found that:
60% of young people's favorite new releases featured images of tobacco, including top shows depicting youth and teen tobacco use such as "The Simpsons," "Family Guy," "Rick and Morty," "Big Mouth," and "Law & Order SVU." The top shows alone are responsible for exposing an estimated 27 million young people to tobacco imagery in 2020, but they are far from the only popular content featuring tobacco imagery.

64% of the top binge-watched shows among young people included tobacco depictions

.

 

Netflix was the top offender for the fourth year in a row, with 651 tobacco depictions in its 2020 shows, with shows like "The Umbrella Academy," and "The Queen's Gambit" managing to include tobacco in every episode. Netflix has yet to act on its "public pledge" to cut back on tobacco depictions. Instead, the streaming giant appears to respond to bad press covering its top tobacco offending shows with statements about how it will reduce tobacco imagery but fails to act in a meaningful way, including publishing a formal policy.

Music videos, another major pop culture influence, also prove to be common sources of tobacco imagery on screen. An analysis of the top 2020 Billboard songs finds that 23% of the songs

featured smoking and/or vaping in their music videos, amassing over 6 billion views on YouTube alone.
Action needed: TV broadcast and streaming
We must do more to protect our youth. Truth Initiative calls for a comprehensive set of policies to curb tobacco depictions on screens, including:
Including tobacco use in TV Parental Guidelines ratings

­– Currently, neither the TV Parental Guidelines ratings,6 developed by the television industry, or streaming service ratings,7,8,9 based on the TV Parental Guidelines, use tobacco use as a ratings indicator or have descriptors with the rating that indicate tobacco use. Including tobacco use in these guidelines would help parents make healthy decisions about the TV and streaming shows their children watch. Shows with tobacco depictions should have a TV-MA rating unless the show clearly depicts the dangers and consequences of tobacco use or accurately depicts a historical figure who used tobacco.

Urge content creators to develop transparent anti-tobacco policies

 – Media companies, creative guilds and show runners should issue and publish comprehensive policies in a public domain to keep tobacco imagery out of youth rated content, and that do not support the normalization of tobacco.

Continue anti-tobacco and anti-vaping ads

 – Anti-tobacco messages have been enormously successful in reducing tobacco use rates and should be deployed before and during shows that feature tobacco imagery. These messages should include specific anti-smoking and anti-vaping messages that demonstrate the harmful effects of tobacco products.

Certify no tobacco industry payoffs

 – Big Tobacco has an overt interest in the continued presence of tobacco on TV, in movies, and in streaming content. It is essential that the film industry proves that no parties or persons involved with a production received anything of value in exchange for including smoking or vaping depictions in a show.

Refuse website advertisements

 – Vaping giant JUUL placed 

banner and video ads

 on Cartoon Network and Nickelodeon-owned websites nick.com, nickjr.com and cartoonnetwork.com. Youth-focused networks should never accept advertising money that explicitly targets young audiences with an addictive product, and this policy should extend to network websites as well.

Continue and expand state public subsidy policies that exclude tobacco

 – Content with tobacco depictions should not be eligible for local production subsidies, including tax breaks and other incentives. States can change their production subsidy policies to provide tax and other incentives for only those productions that do not promote tobacco use.

Continue and expand education and outreach

 – Many creatives in the entertainment industry are not aware of the potentially deadly effects that tobacco content can have on youth and young adults. It is important to educate directors, writers, producers, and actors about the importance of keeping tobacco out of their shows. Parents, too, may need educating on the impact on their children of seeing tobacco use onscreen.

Continue and expand ongoing research

 – More information is available about the harmful effects of tobacco imagery than ever before, yet there is more to be learned. A rigorous and ongoing monitoring of tobacco imagery, including how it is portrayed and who is watching, is needed by reputable non-media/tobacco industry researchers. Especially with e-cigarette depictions on the rise, it is critical to document and understand the impact of streaming on youth culture and the many ways that it can impact youth health. Media companies should provide researchers the raw data needed to produce valid results (i.e. viewership data).

Provide resources for tobacco dependence

 – Much like streaming companies do for suicide prevention, eating disorders and other illnesses that affect youth, companies should provide static screen shots with validated and evidence-based resources such as This is Quitting to assist youth with nicotine dependence.
Tobacco in video games
Smoking in video games
Smoking is prevalent and often glamorized in video games played by youth, with some young gamers describing tobacco use as making a character "cooler," "tougher" or "grittier." While a methodical review of games on the U.S. market has yet to be conducted, it is clear from past research that tobacco use is frequently depicted in video games geared toward young people. For example, between 1994 and 2011, 60 out of 78 large video game publishers included tobacco imagery in at least one, and often more, of their games rated appropriate for youth.
Tobacco use in video games is likely to promote youth smoking in similar ways to tobacco use in movies and television, and may even pose additional concerns since video games are more active and intense experiences. Video games are very popular among young people, with 178.1 million digital gamers in the U.S., 21% of whom are under the age of 18.10 And the popularity of video games are on the rise, with 73% of Americans ages two and older playing video games, an increase of 6 percentage points since June 2018, according to a 2019 study.11
Action needed: Video games
While research linking tobacco in video games to youth smoking behavior is still taking shape, there are steps that the industry and individuals can take to reduce the risks posed by video games. These include:
Conducting additional research on tobacco imagery in video games and subsequent tobacco use – Smoking in video games may be more influential than smoking in movies because youth spend considerably more time playing video games than they do at the movies.12 Video games are more active and intense experiences than movies, and in some video games, players can actually simulate smoking for their characters.13,14,15,16
Giving a "mature" rating to all games that depict tobacco use and disclose such use in the ratings descriptor

–

Descriptive ratings would help parents and the public understand what is in video games and make healthy decisions. Video game content descriptors often fail to mention tobacco use.

Encouraging game developers and publishers to stop including tobacco imagery in games, especially ones marketed to or played by youth – The public health community needs to do more to partner with developers and educate them about the consequences of tobacco depictions in their games.
Educating parents, policymakers and other adults to increase awareness on the connection between tobacco depictions in media and tobacco use among youth – Education can increase public pressure on developers and encourage responsible industry practices to keep tobacco use out of video games.
Core recommendations for preventing tobacco imagery on screens
Exposure to tobacco imagery in pop culture puts the health of young people at risk. Preventing tobacco from appearing in movies, video games, TV shows and other forms of pop culture is necessary to protect youth and young adults.
Because each area is governed in different ways, Truth Initiative recommends separate measures for movies, TV and streaming and video games, all based on the same core ideas:
Educating parents and the public on the prevalence of tobacco imagery in entertainment media and pop culture and the health consequences of exposure
Holding media industries accountable for indicating when tobacco imagery is present and giving an appropriate rating when it is
Educating the creative professionals in these industries and encouraging responsible practices around tobacco depictions in entertainment media
Ensuring that states are not subsidizing film, television and streaming productions that contain tobacco use
Encouraging policymakers to recognize the prevalence of tobacco in these media sources and its effects on tobacco use.
Conducting additional research to learn more about the consequences of exposure to tobacco in all media to develop best practices for protecting youth
All producers of video content, regardless of platform, should adopt the following policy principals:
In future productions, commit to no tobacco depictions (including e-cigarettes) in youth-rated content (e.g., TV-14, PG-13 or below) unless:

the depiction unambiguously reflects the dangers and consequences of tobacco use, or
the depiction represents the tobacco use of an actual person, as in a biographical drama or documentary.

Clearly mark previously produced material with tobacco descriptors so parents can appropriately evaluate content.
Include anti-smoking advertising before previously produced material with youth ratings and tobacco depictions.
Certify that no tobacco product placement appears in any future production (including consideration paid to producers, actors, etc.).
References
1. National Cancer Institute. The Role of the Media in Promoting and Reducing Tobacco Use. Tobacco Control Monograph No. 19. Bethesda, MD: U.S. Department of Health and Human Services, National Institutes of Health, National Cancer Institute;2008.
2. U.S. Department of Health and Human Services. Preventing Tobacco Use Among Youth and Young Adults: A Report of the Surgeon General. Atlanta, GA: U.S. Department of Health and Human Services, Centers for Disease Control and Prevention, National Center for Chronic Disease Prevention and Health Promotion, Office on Smoking and Health;2012.
3. Glasser AM, Johnson AL, Rath JM, Williams VF, Vallone DM, Villanti AC. Tobacco Product Brand Preference among US Young Adults, 2011-2014. Tobacco Regulatory Science. 2016;2(1):44-55.
4. Willett JG, Bennett M, Hair EC, et al. Recognition, Use and Perceptions of JUUL Among Youth and Young Adults. Tobacco Control. 2018.
5. Xu X, Bishop EE, Kennedy SM, Simpson SA, Pechacek TF. Annual Healthcare Spending Attributable to Cigarette Smoking: An Update. American Journal of Preventive Medicine. 2015;48(3):326-333.
6. TV Parental Guidelines. About the TV Ratings and V-Chip.  http://www.tvguidelines.org/index.htm.
7. Netflix. How Does Netflix Decide the Maturity Rating on TV Shows and Movies?  https://help.netflix.com/en/node/2064.
8. Hulu. What Parental Controls are Available to Restrict Mature Videos? March 20, 2017.
9. Amazon. How to Set Prime Video Parental Controls.  https://www.amazon.com/gp/help/customer/display.html?nodeId=201423060.
10. "51 Significant Video Game Demographic Statistics: 2022 Data on Age & Gender." https://financesonline.com/video-game-demographic-statistics/. Accessed 3/21/2022
11. "According to The NPD Group, 73 Percent of U.S. Consumers Play Video Games." https://www.npd.com/news/press-releases/2019/according-to-the-npd-group-73-percent-of-u-s-consumers-play-video-games/. Accessed 3/21/2022.
12. Kaiser Family Foundation. Generation M2: Media in the Lives of 8- to 18-Year-Olds. January 2010; https://kaiserfamilyfoundation.files.wordpress.com/2013/04/8010.pdf.
13. Red Dead Wiki. Chewing Tobacco. 2018; http://reddead.wikia.com/wiki/Chewing_Tobacco.  
14. Metal Gear Wiki. Cigarette. 2018; https://metalgear.fandom.com/wiki/Cigarette.
15. GTA Wiki. Smoking. 2018; https://gta.fandom.com/wiki/Smoking.
16. GTA Wiki. Redwood Cigarettes. 2018; https://gta.fandom.com/wiki/Redwood_Cigarettes.
More in tobacco in pop culture