Research Article
Nicotine pouch ads follow e-cigarette marketing playbook and risk appealing to young people
Advertisements for nicotine pouches often highlight flavors, emphasize the "freedom" of using nicotine pouches, and suggest that they are less harmful than traditional tobacco products – themes that may appeal to youth and young adults, according to new research co-authored by Truth Initiative® published in Tobacco Control. The study, among the first to examine advertising for nicotine pouches in the U.S., finds that the popular nicotine pouch brands On!, Zyn, and Velo spent nearly $25 million on ads between January 2019 and September 2021, and build on marketing methods that helped recruit a generation of young people to new nicotine-containing products like e-cigarettes. The study underscores the need to monitor marketing and enforce regulation of new youth-appealing nicotine products.
While smokeless, spit-less nicotine pouches do not contain leaf tobacco, they do contain nicotine in varying strengths and come in youth-appealing flavors like fruit and mint. Nicotine pouches entered the market in 2016 and quickly skyrocketed to popularity with sales increasing more than 300-fold from $710k to $216 million by June 2020, according to a 2021 letter published in JAMA. Their popularity makes them a rising concern for public health officials given that nicotine is harmful to young people in any form.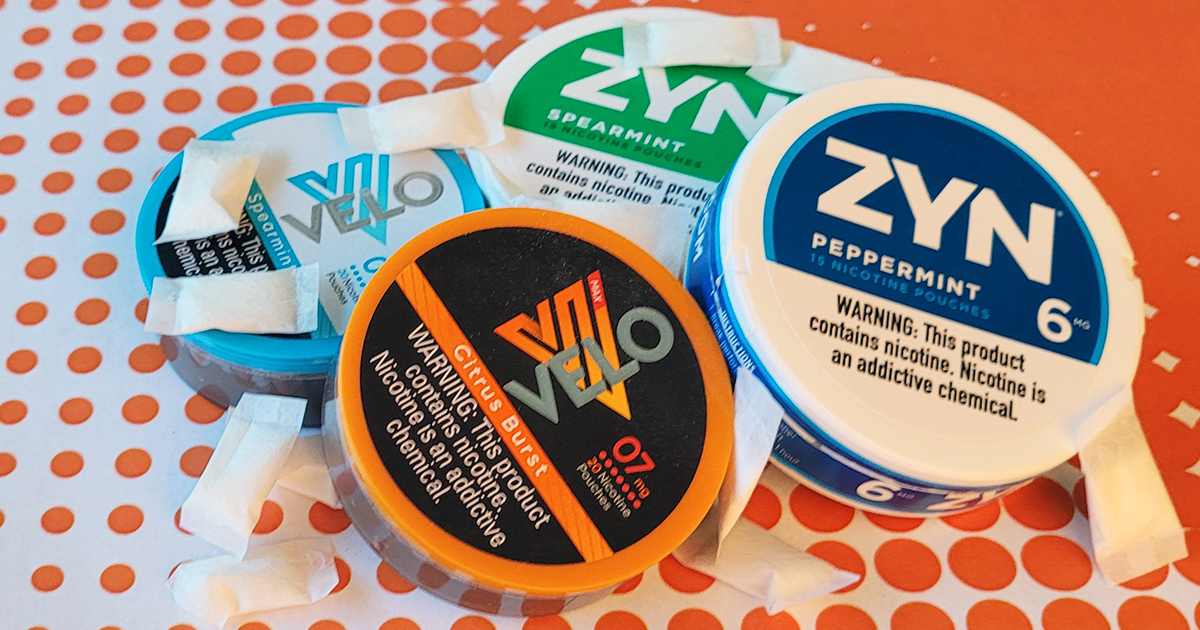 Advertisements focusing on freedom and flavor may entice youth
Researchers examined mobile, online, print, radio, and TV ads for Zyn, On!, and Velo, which are the three most popular brands of nicotine pouches in the U.S. and are manufactured by Swedish Match, Altria, and RJ Reynolds, respectively. They found that over 25% of original advertisements released during the study period emphasized the "freedom" of using nicotine pouches with phrases like "anywhere," "experience freedom," and "now." For example, one of Zyn's most frequently used headlines was "Can't Smoke? Can't Vape?" highlighting the ability to use these products in spaces where traditional tobacco products are not allowed.
Many ads (11%) used phrases like "burst of flavor" and "maximum flavor" which appeals to young adults and novice users of tobacco products. Previous studies have linked flavors with increased risk of attracting youth to initiate use of tobacco products, and flavored nicotine pouches are no exception.
Health claims imply that nicotine pouches are safer than traditional tobacco products
Advertisements for nicotine pouches are also using language that implies they are less harmful than traditional tobacco products. Nearly 10% of 286 ads included in the study contained health claims like "tobacco-free," "no tobacco," and "spit free." Although nicotine pouches do not contain tobacco, they are derived from tobacco and contain nicotine. "Tobacco-free" language is particularly concerning because it can be used to target tobacco-naïve populations despite limited research on the risk of nicotine pouches relative to traditional tobacco products. These marketing ploys are also in line with historic advertisement tactics used to promote new tobacco products.
Following the e-cigarette marketing playbook
The top nicotine pouch brands spent nearly $25 million spent on advertising between 2019 and 2021, with Velo spending the majority of these costs (94.7%), followed by Zyn and On! Most ads aired over the radio (75.9%), television (16.2%), and online (6.7%), with spending patterns that may reflect shifts in marketing strategies previously used to market e-cigarettes, according to the authors. Early e-cigarette marketing focused on television and radio, then expanded to social media marketing, which was later shut down by the FDA for youth-targeted marketing. E-cigarette marketing then shifted from social media back to traditional marketing channels like TV.
Across media channels, entertainment-themed places like People, Rolling Stone and Vibe took the highest share (34.7%) of nicotine pouch ad placements, and 9.5% of ads were placed in sports-themed spots like Sports Illustrated, NFL.com, and MBA.com. Placing ads for nicotine pouches in entertainment and sports channels "may raise concerns that the nicotine pouch marketing may parallel the traditional tobacco products' tactics to target vulnerable young population groups," the authors write.
The need to monitor nicotine pouch marketing
In March 2022, the Food and Drug Administration announced it has regulatory authority over products like Zyn, Velo and On! that are marketed as "tobacco-free" ensuring that all nicotine-containing products are regulated the same way. Manufacturers of these products must submit a pre-market application to the FDA prior to marketing their products. Nicotine pouch companies may seek permission from the FDA to market their "modified risk" tobacco products in line with previous marketing tactics used for electronic cigarettes.
Findings suggest that leading nicotine pouch companies are advertising products using the same playbook that e-cigarette companies have used in the past to entice new users and young people to try nicotine-containing products. It is essential to monitor advertising techniques used to promote nicotine pouches, especially as the FDA establishes its regulatory authority over these products.
More in tobacco industry marketing