Research Article
How the tobacco industry uses sponsored content in major media outlets to shift public perception
Tobacco companies have used major news outlets including The Wall Street Journal and Washington Post to makeover their corporate image, spending millions on ads designed to reposition them as aligned with public health even though many publishers have policies in place prohibiting tobacco-sponsored content, according to Truth Initiative® research.
The study found that PMI and Altria, the makers of Marlboro, spent $11.72 million combined between January 2020 and August 2021 on corporate advertising concentrated in national newspapers including the Boston Globe, The Denver Post, The Washington Post, Politico and The Wall Street Journal.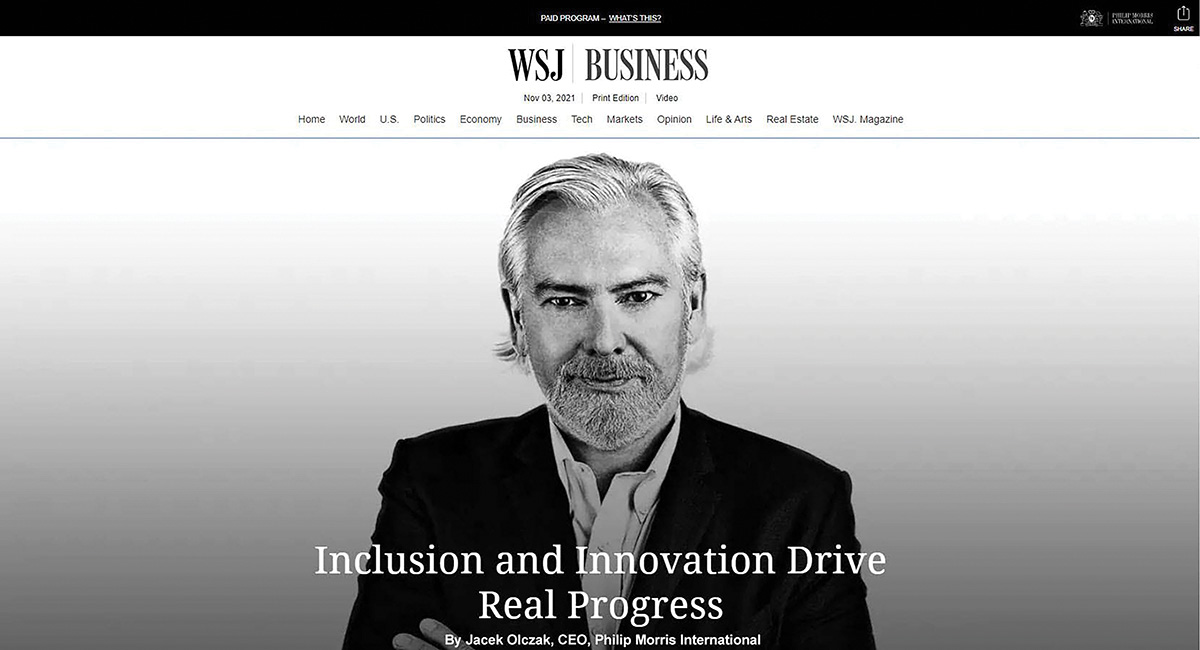 Spending is likely vastly understated since it doesn't include all forms of advertising, including print "advertorials" – ads in the form of editorials that are strategically positioned next to reported content – promoting new non-combustible tobacco products behind the veil of reducing harm to smokers. For example, PMI's vice president of strategic and scientific communications published an advertorial in The New York Times about "embracing science" and PMI's CEO published a similar ad promoting inclusion and progress in the Wall Street Journal, both of which tout the company's non-combustible products.
"Without stricter guardrails to prevent advertorials such as these, the tobacco industry will continue to promote the narrative that best supports their bottom line—regardless of the actual consequences to the public's health," the authors write.
Restrictions exist for some forms of tobacco product advertising, including a 1970 federal ban on TV and radio cigarette ads, which later extended to smokeless tobacco ads, and the 1998 Master Settlement Agreement that created new limits for cigarette advertising, prohibited tobacco advertising that targets young people, eliminated outdoor, billboard and public transit advertising of cigarettes, and stopped event sponsorship. Media platforms like newspapers are still permitted to run tobacco advertising, although many publishers instituted their own policies that prohibit paid ads by the tobacco industry. In 1999, for example, the New York Times and the Boston Globe banned cigarette ads. Restrictions like these, however, are increasingly ineffective in the face of newer tobacco products and advertising formats.
Now, the tobacco industry is taking advantage of marketing channels that are still open to them to remake their reputations by promoting their products as "safer alternatives" to smoking.
The makers of Marlboro tout their investment in a "smoke-free future"
A recent report from Stanford University School of Medicine dives specifically into PMI's public relations campaign that claims PMI is a public health advocate seeking to create a "smoke-free future." According to the report, the campaign claims that PMI cares about public health and the health of smokers, that PMI science is trustworthy and accurate while that of its critics is misinformation, and that it is creating products like IQOS, which was first sold in the U.S. in 2019 and heats tobacco to produce a nicotine aerosol, to provide "smoke-free" nicotine. The report addresses the campaign's heavy promotion and use of advertorials, which the report authors say aims to sway regulators and policymakers to adopt rules favorable to the company's business.
"Appearing in prestigious newspapers lends credibility, conveys authority, implies endorsement, and bolsters believability to a company's sponsored message," the authors say. "Publishing disinformation campaigns, such as PMI's ["Smoke-free future"], is incongruent with [newspapers'] tradition of journalistic excellence."
Promoting non-combustible tobacco products like IQOS and e-cigarettes through advertorials is part of a larger tobacco industry strategy to overhaul its reputation with new products, rebrand its public image and position itself as working alongside public health, all the while continuing to sell cigarettes. As part of this strategy, the industry has commandeered the term "harm reduction" – the proven public health strategy of providing evidence-based lower harm alternatives for those who do not quit using harmful substances – as part of its business strategy to expand its user base.
Efforts to invade the realm of scientific spaces
The tobacco industry's paid advertisements to portray themselves as scientific experts are also in line with recent efforts to infiltrate scientific spaces and mislead the public. A Truth Initiative editorial in the American Journal of Public Health exposes tactics that mirror those the industry used for decades to deceive the public about the health risks of cigarettes, including sponsoring entire issues of prestigious research journals and participating in tobacco control research conferences, where they present tobacco industry-sponsored research alongside independent, credible public health research, and gain critical insight into tobacco control evidence and strategy.
The tobacco industry continues to rebrand its public image and maintain its bottom line by selling new, alternative tobacco products that help angle it as part of the "public health solution" to smoking. The recently published research in Tobacco Control calls for newspapers to stop accepting funding from tobacco companies to promote their products, regardless of the advertisement's form.
More in tobacco industry marketing