Research Article
Why smoking remains higher in these Southern and Midwestern states
Smoking prevalence for adults and young adults is 50% higher in a group of 12 states across the South and Midwest compared to the rest of the country, according to Truth Initiative's latest "Tobacco Nation" report, the third report since 2017 analyzing geographic disparities in tobacco use.
In Alabama, Arkansas, Indiana, Kentucky, Louisiana, Michigan, Mississippi, Missouri, Ohio, Oklahoma, Tennessee, and West Virginia, adults and young adults smoke more cigarettes per capita than adults and young adults in other states (53 packs versus 29 packs), meaning a smoker living in Tobacco Nation could smoke nearly 500 more cigarettes per year than the average smoker in the rest of the U.S.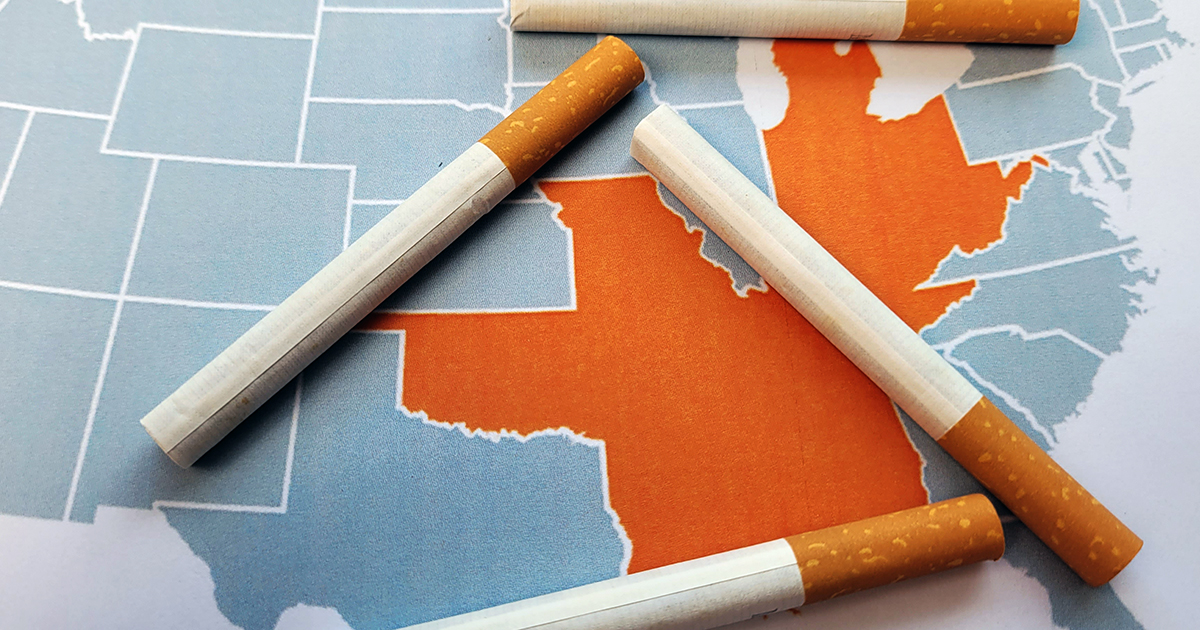 Consequences of higher smoking prevalence
These tobacco use disparities contribute to Tobacco Nation residents living shorter lives and facing a higher risk of dying than other Americans, with an average life expectancy of 76 years compared to 79 years in the rest of the U.S.
In addition to life expectancy, mental health has declined across the country in part due to the COVID-19 pandemic, but indicators remain worse in Tobacco Nation than other U.S. states. Adults in Tobacco Nation more often report poor physical and mental health days and report more frequent mental and physical distress compared to the rest of the U.S. Tobacco Nation's smokers are also more likely to report frequent mental distress (26.9%) than the average Tobacco Nation resident (16.1%).
The overall decline in U.S. tobacco use – smoking prevalence among high school students dropped from 28% in 2000 to 2% in 2022 – has masked this persistent problem. Why have Tobacco Nation states been left behind?
Weak tobacco policies worsen smoking disparities
Much of the decline in smoking can be attributed to tobacco policy efforts, including price increases, smoke-free air laws, and youth access restrictions, as well as mass media public education and prevention campaigns.
While residents of Tobacco Nation have historically supported strong tobacco control policies at an equal level to residents of states outside the region, a combination of factors including tobacco industry interference have prevented them from gaining traction. New issues with uneven implementation of local flavored tobacco policies, which are especially important to address the youth e-cigarette crisis, threaten to exacerbate disparities further. Factors that contribute to higher smoking prevalence in Tobacco Nation include:
Lower taxes, leading to a pack of cigarettes costing nearly 20% less in Tobacco Nation than in other states ($6.50 compared with $7.95)
Lower spending on tobacco prevention and cessation programs, with less than 15% of recommended spending compared to 30% spent outside of Tobacco Nation
Fewer comprehensive smoke-free policies, which cover 47% of Tobacco Nation residents compared to 64% of the rest of the U.S.
Virtually no flavored tobacco policies, with only three out of nearly 400 flavored tobacco policies in the U.S. enacted in Tobacco Nation
A clear path forward
It is possible to create a future where these geographic disparities do not exist anymore. According to a separate analysis by Truth Initiative and HealthPartners Institute, more spending on tobacco use prevention and cessation paired with higher cigarette taxes targeted to areas with the highest smoking prevalence can reduce disparities in tobacco use that have existed for decades. This could result in bringing adult smoking in Tobacco Nation down to the national average and resulting in considerable health and economic benefits.
More in smoking by region